Besides the torrential downpour, the sold-out 2013 Lone Star Chili Cook Off at Beekman Beer Garden went off spotlessly, with tons of people, tons of simmering meat, tons of Texas beer, and one dude wearing a spirit hood. Here's what you missed/have to look forward to next year: Team That's What She Said doing the Chili Dance -- it's even hotter than twerking! Because it involves chili. Queso instead of grated cheddar. Simple. Elegant. Melty. Dad came all the way up from Texarkana to help make his Devil's Own chili, whose recipe fortunately doesn't call for what Brad Pitt blasted as "the most irresponsible bit of film making that I've ever seen". These guys are not exotic dancers. But a friend of theirs was at Pumps in Brooklyn, and was like, "Hey, you guys should sponsor this chili cook off team", and Pumps was like, "Come back at midnight and we'll work out the details". Boom, that's how marketing happens. Wait, what does that say? It says this. If you haven't already heard that Shiner's available in New York then you clearly don't know a single person from Texas. A good party needs plenty of beer... ... and plenty of boots. Hill Country was in the house. So was this band, who quickly learned that all you need to do to make Longhorns happy is yell "Texas!" so they can yell "Fight!". This didn't please the Aggies in attendance -- they're not impressed by any cheer that doesn't take an entire week of your life to learn. This guy's not even from Texas! But he did go to a game in Austin, and his dad definitely has succulent cheeks. Twice The Burn, Double The Pleasure. Helping double that pleasure: homemade cornbread. Though no one would blame you for going with the all-time classic garnish, Fritos, a.k.a. "meat sprinkles". Looks like former Texas governor Bill Inclements weather. No worries -- plenty of room in the tent. This upstanding young gentleman went to Rice. His shirt's from College Station. Did you know that the only way to get to Texas A&M University is by train? This team's from Where the Streets Have No Name (New Jersey). These are the Whistlin' Dixie girls. It's actually the next contestant over that has... pescatarian-friendly chili. Did we mention you can get Shiner in New York now? Hook 'em! Hook 'em two times! Or, as they say at other schools, "We got spirit hoods, yes we do, we got spirit hoods, how 'bout you?".
Recommended Video
Pizza Acrobatics Is a Real Sport, and You're Going to Love Watching It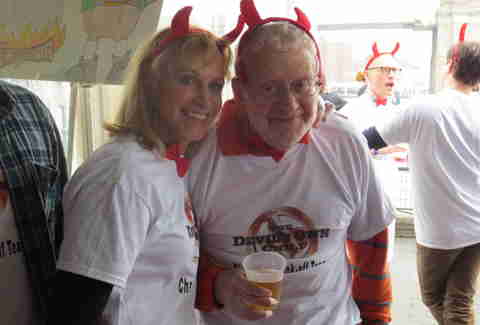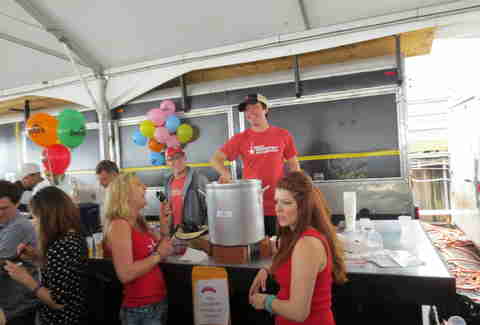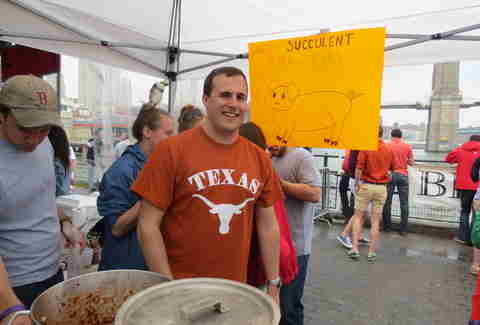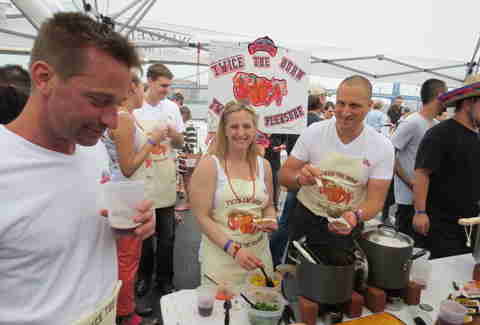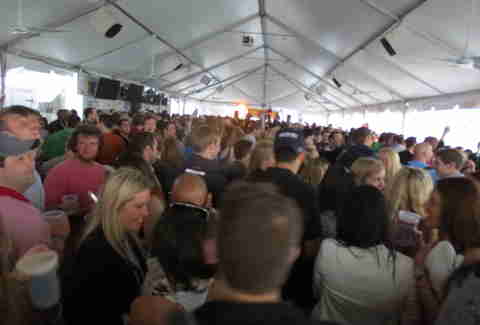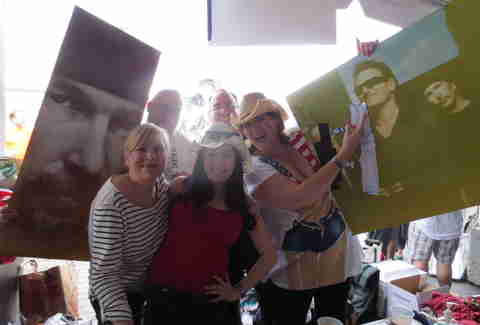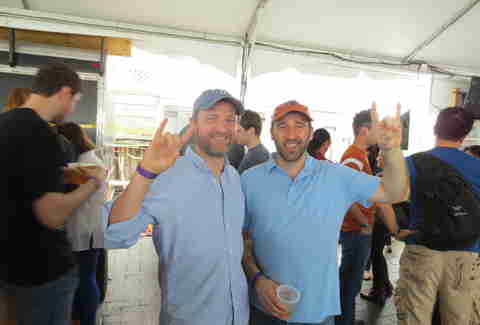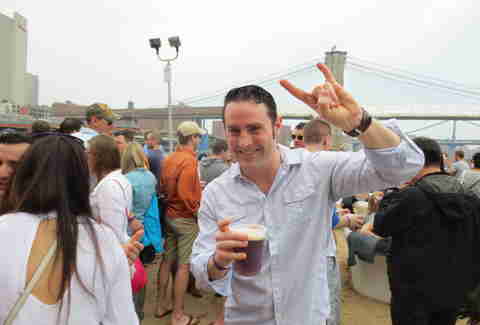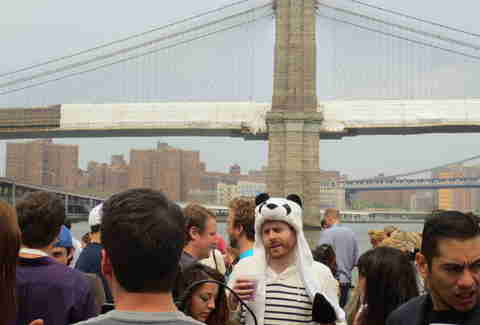 Previous Venue
Next Venue
Venue Description
1. Beekman Beer Garden Beach Club
89 South St, New York, NY 10038
The closing of Water Taxi Beach left Manhattan residents few proximate options for beachy fun, meaning anyone who wanted to play in the sand would likely just be told to go pound some. Thankfully, Beekman Beer Garden and Beach Club has moved into WT's shuttered Seaport spot, and's fleshing out a beach-meets-beer-garden concept via a number of distinct, Voltron-esque components, none of which are hopefully the whiny green lion dude.