Last Summer, the world was introduced to the Ramen Burger at Smorgasburg, and it went absolutely bananas. Like, Gwen-Stefani-lyrically-spelling-out-the-word bananas.
And now, after about a year in the making, the Ramen Burger has a permanent, strangely punctuated home: RAMEN. Co, a Financial District joint that's fast-casual-ing the intrepid burg.
Recommended Video
Buffalo Chicken Beer Cheese Fondue Fries Are Like an Edible Sports Bar
There's nothing too fancy here, just a modern, sleek space slinging the signature Ramen Burgers along with Ramen non-Burgers (more on that in literally one second), and actual ramen.
One of those new ramen-bunned beauties is the shredded beef -- the flavors are much the same as the burger, with its "secret shoyu sauce" and scallions topping both, but the texture differs and makes for a new experience.
It's not all beef, all the time, though: it's also putting tender chicken breasts in between ramen bread, so you can keep it light. Or have two!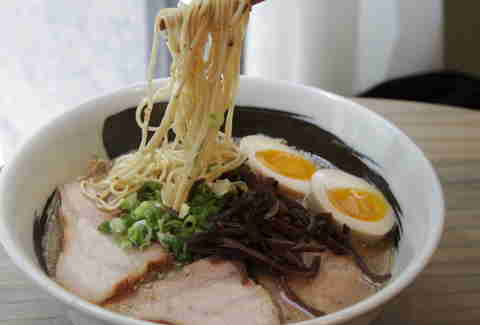 The regular ramen here is all named for specific shops that inspired him. This is the Brooklyn Ramen with a tonkotsu broth, pork belly, black garlic oil, soy sauce, scallion, mushrooms, and fried onion.
And since there's a chance it's going to be one billion degrees with 400% humidity any time now, it's also got broth-less, cold ramen as well, served with pork belly and topped with cucumber, crabmeat, scallions, spinach, mushrooms, and naruto fish cake. Feel free to also put a burger in it.
Andrew Zimmer is Thrillist's NYC Editor and he is incredibly hungry for ramen now. Follow him on Twitter and Instagram.
Previous Venue
Next Venue
Venue Description
1. RAMEN.Co
100 Maiden Ln, New York, NY 10038
RAMEN.Co was first opened after the extreme success following the Ramen Burger craze at Smorgasburg. Eventually, a shop dedicated to the culinary beast was opened here in FiDi, and it's serving up serious ramen bowls alongside non-Ramen Burger options. But fret not, it'll always be the home of the Ramen Burger, which you should get, immediately.