Korean fried chicken and tapas by the light of the moon in Flatiron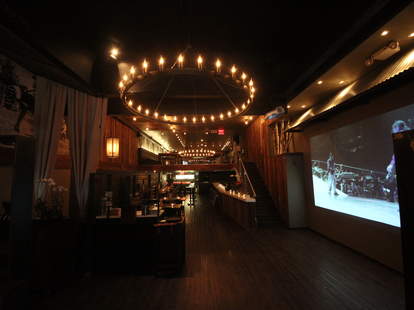 Evoking both a trendy Asian nightspot and an actual barn, this hybrid Korean tapas restaurant, bar, and performance space comes from hotel man/ restaurateur/ awesome name-haver Charles Tiger Chong, and fills the bottom floor of the Hotel Verite with a long, heavily wooded bi-level banquet hall
The dining area's surrounded by a ton of ropes (which they're very big on, since they symbolize "the connectedness of people"), white birch trees, cases filled with chestnuts, peanuts, and the like, plus that round spotlight thingy over head..
Yeah. It's the moon
Which is perfect for a romantic moonlit swing.
Or some moonwalking guided by this screen between the dining room and the bar. They'll also project stuff including Lady Gaga concerts, and host performances like live Korean pop, which everyone is pretty Psy-ched about
They've also got an even more forest-y second floor that'll be open for diners unless you want to rent it for a private party, and bring your own Korean pop dancers
The specialty here is poultry, and it's worked up by a chef who's done some fine-dining time at Jean-Georges. This is his take on the classic soy-garlic Korean fried chicken
They've also got several other flavors, including the Salt & Battery, for which you can actually pick the type of salt you want. Here we've got salt with "black seed", but they've also got sesame salt, and sea salt w/ kelp
Non-chicken meats include this artfully arranged pan of miso-glazed pork belly or thick slices of beef shank
Lighter fare includes a beautiful windmill of salmon surrounding yuzu-drenched crushed ice
Pancakes? Pancakes! Fill 'em with scallions like this one, or load one up with seafood
Three types of kimchi
Resist the urge to throw this rice ball in your friend's face and instead give in to the urge to throw it into your own
There're also a couple sushi rolls, including the Godzilla, which's filled with tuna, tilapia, avocado, crab meat, spicy mayo, eel sauce, and seething hatred for Mothra
Did you guess that this was warm ginger pudding? Of course you didn't, but that's what it is
The bar's a little lower-lit and a little sexier, and will make everyone in the place look the same thanks to Sixpoint, Asahi Super Dry, and Duvel, plus Korean liquors like rice-based Mak Geol Li
And of course cocktails like the Bloody Caesar, which's loaded with Worcestershire and Tabasco, and has a veritable deli section attached to it
Here's a deliciously timeless rendering of the Negroni
And now, a carafe of pear soju nestled in a bucket of ice and adorned with a better bouquet of flowers than you've ever gotten for your mom.