Get Free Nutella-Filled Cones at Eataly Tonight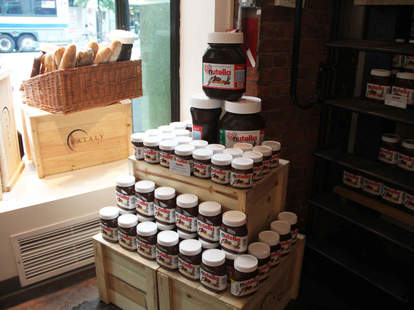 This is not a drill.
The all-Nutella bar at Italian food mecca Eataly that existed solely as a pop-up last year is back and here to stay. To celebrate, it's giving away FREE Nutella-filled mini-sugar cones starting at 5pm tonight. 
Just like last year, the Nutella bar will feature Nutella-centered desserts like Nutella-filled cookies, pane con Nutella, and different varieties of Belgian waffles topped with Nutella and gelato. Nutella iced coffee and Nutella espresso will also be on offer.
After today, the bar will be open every day from 10am-11pm.
Only the first 300 customers will get a cone, so start lining up... now?
Lucy Meilus is a staff writer for Thrillist and has never written the word "Nutella" so many times. Follow her on Twitter at @Lucymeilus and send news tips to news@thrillist.com.