Mexican falafel, duck shawarma & lamb pastrami, at the best street "cart" ever
Since the early Cretaceous, the street-cart falafel sandwich has remained a largely unchanged and respected staple of the NY culinary scene. But the team over at Ilili said, "Well, watch this", and then followed that up with something in Korean, and then opened up Ilili Box. They've changed the game with their new street-eats spot in the Flatiron pedestrian plaza right next to Eataly, by creating retooled takes on falafel pita, panini, and shawarma, and serving regular-tooled beer and wine.
Situated with sight lines to the Flatiron and Empire State buildings, the Flatiron Plaza is also one of the only outdoor public places in the city where you can drink. Except for stoops. We're pretty sure those are all 100% legal too.
Partially inspired by the front and back of house workers at Ilili proper, the Mexican falafel looks innocent enough. But inside, it's loaded with their special garlic whip with olives, sliced jalapenos, tomatoes, red onion, and cilantro leaves, and tastes like a spicy yet lighter and more refreshing version of a standard 'lafel.
The Korean falafel is semi-banh mi inspired, and comes loaded with some fancy sounding things including a "chiffonade of scallions", a "proprietary blends of heat", cucumber kimchi, fresh basil leaves, rice wine vinegar, and just a touch of honey.
When owner Phillipe Massoud first moved to NYC as a 14yr-old, his aunt told him, "There're two things you need to taste as a New Yorker, pastrami and bagels," (guess she didn't like pizza). Since then, he's been a fanatic of both, so their lamb pastrami panini had been many years coming. It utilizes lamb belly that's cured for 48 to 72hrs, then slow-cooked at low temps for four hours and topped with a simple wasabi mayo. This thing is excellent.
Don't worry, they've got your vertical-spit-cooked shawarmas too. This one's the duck shawarma with layers of duck, chicken, and delicious duck fat sheeted and put on the spit, then sliced and topped with fig garlic whip, scallions, lettuce, and pomegranates.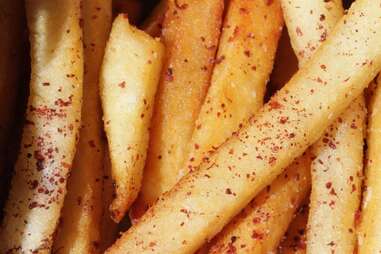 Even the good ole fries are getting stepped up here. These are the Phoenician fries, and they get served with garlic whip after being dusted with just a bit of sumac salt. Street meat guys, the greasy gauntlet has been thrown.