Shake Shack is doing 5 days of totally exclusive new burgers this week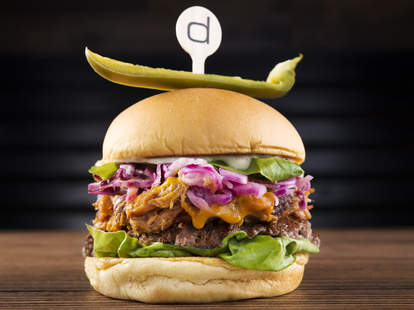 Awesome news: Shake Shack's 10th anniversary is this week, and they're blowing it out in Madison Square Park with five days of totally exclusive new burgers, all of which're collaborations with totally famous chefs (like momofuku's David Chang, The Spotted Pig and The Breslin's April Bloomfield, and Daniel Humm from Eleven Madison Park... one of the best restaurants in the world).
We've got a sneak peek of them below, with details on which exclusive burger they're doing on which day. Oh, and plan to get there early -- they're only gonna make 'em until they sell out!
Monday: The Piggie Shack by Daniel Boulud
The don behind db Bistro Moderne's canonical short rib/foie gras burger will be one-upping HIMSELF with this one-day-only monster that tops a Shack burger with DBGB's pulled pork, jalapeño mayo, and mustard vinegar slaw. It's tangy. It's sweet. It's spicy. And it's what you're gonna be doing for lunch Monday.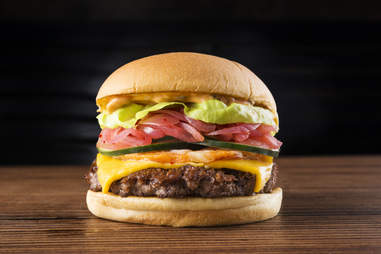 Evan Sung
Tuesday: Shrimp Stack by David Chang
Born in the Momofuku Ko kitchen, this Chang-sterpiece has a surprisingly classic flavor profile despite being topped with not-at-all-classic stuff: a smoked and griddled shrimp patty, momofuku Hozon sauce (which tastes like Thousand Island!), pickled onion, and salted cucumber.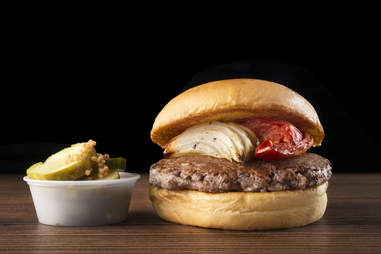 Evan Sung
Wednesday: The Cabrito Butter Burger by Andrew Zimmern
Even though he makes certain Thrillist editors completely impossible to Google, we'll still admit that this take on the classic Minnesota Butter Burger (we love you, Minnesota) is actually pretty amazing. The butter is herbed and the meat is goat, and it's all finished off with charred onion and a sweet pickle, giving it an almost kabab-esque flavor.
Evan Sung
Thursday: The Humm Burger by Daniel Humm
Shake Shack actually operated out of Eleven Madison Park's kitchen for a little while, so this one shows off a lot of their fine-dining roots: Gruyere is melted on top of this "Earthy" burger, which's also piled with black truffle mayo, celery relish, applewood-smoked bacon (so Earthy!), and -- because they're ballin' out on their b-day -- fresh-shaved black truffles. 
Bonus things going down on their actual anniversary (June 12th): A 6ft x 6ft cake made by Cronut master Dominique Ansel, which will be given out for free to people in line. There'll also be bands all day long, and the resurgence of their original hot dog cart, which'll be operating on a pay-what-you-want basis. If you're picking just one day to go, this is it.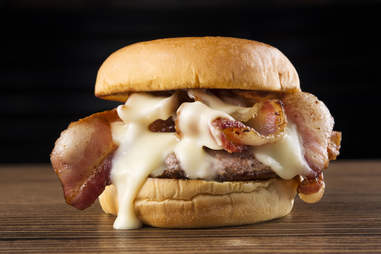 Friday: The Breslin Burger by April Bloomfield
They're actually using The Breslin blend of beef on this one instead of the classic Shack patty, and pretty much everything here is going to maximize juiciness. It's topped with bacon ("a lot of bacon", according to Shake Shack) that's cooked a little less crisp than usual, and messied up with Tickler cheddar cheese sauce. It's "essentially a classic bacon cheeseburger". Yeah, looks pretty classic.
Andrew Zimmer is Thrillist's NYC Editor and he thinks every anniversary should involve burgers. Follow him on Twitter and Instagram.