Long before the ramen craze swept New York City, a Japanese-inspired noodle restaurant called Wagamama opened in London in 1992, offering high-quality, fresh meals at reasonable prices. Known for its plentiful portions and communal dining style, Wagamama became immensely popular throughout England -- and even inspired Momofuku's David Chang to break into the culinary world. Today, Wagamama has more than 150 locations worldwide and serves a packed menu of ramen, teppanyaki, donburi, and curries with inspiration from all over Asia.
If you've never heard of it before, that's probably because the chain hasn't gained much of a foothold in America -- until now. Wagamama's US flagship location opens Wednesday, November 16th at a sleek, two-story Flatiron District location overlooking Madison Square Park.
At the new location, Wagamama Executive Chef Steven Mangleshot promises the same signature menu and flavors found in the British restaurants, in addition to an NYC-exclusive cocktail bar and brunch menu. "We're going to make the food speak for itself," Mangleshot said. "We're taking the best of the UK brand and delivering it to New York City. Wagamama fits and suits New York. New Yorkers are extremely passionate about food, as Londoners have become, and we want to share that."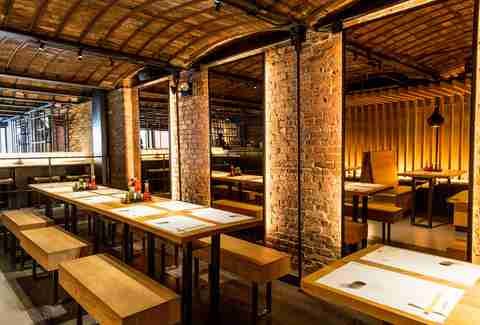 A far cry from the industrial white walls and long communal tables of the British locations, the New York spot features a much warmer and inviting atmosphere. With exposed brick, arched ceilings, and lighting that spotlights the room from the floor up, the new restaurant feels equal parts cozy and more elevated than your average ramen spot. There are plenty of communal tables and booths, in addition to small tables, should you want to slurp your ramen solo.
Mangleshot knows that New Yorkers have a lot of options for noodle consumption, but what makes Wagamama stand out is its variety of protein options and the fact that the broth is light without sacrificing flavor, he said. Wagamama offers eight different bowls of ramen (priced between $12-16), featuring protein ranging from grilled duck to short rib.
"You get a massive bowl of food, but when you're done, you don't feel weighed down. You feel energized," Mangleshot said.
The most impressive bowl by far is the shirodashi pork ramen ($14), which gets you six huge pieces of pork belly cooked in bulgogi sauce and dropped into chicken broth with miso and dashi. The chicken broth keeps the dish light while also highlighting the bold pork flavor.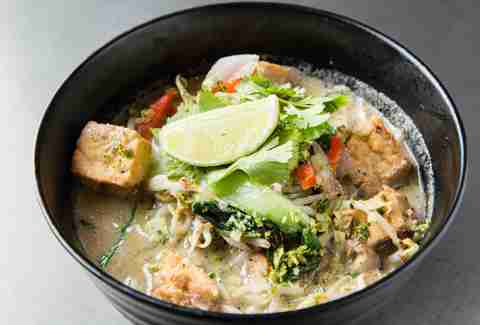 In addition to ramen, the curries are a standout on the menu, taking more inspiration from Thai cuisine rather than more common Indian-style recipes. One of the most interesting is the itame ($12-14 depending on fillings), an aromatic, slightly spicy curry with gluten-free rice noodles, bok choy, red peppers, shiitake mushrooms, and your choice of chicken, prawns, or tofu & veggies, all mixed into a coconut-based sauce that features hints of lemongrass, ginger, mint, and garlic. Mangleshot's favorite dish of all time is the $14-15 firecracker curry -- made with snow peas, peppers, red chilies, and either chicken or prawns -- which he says packs the perfect amount of spice.
On the brand-new cocktail menu, you'll find refreshing drinks to pair with all of these savory dishes, like the pink ume cosmopolitan, which gets its name from the slightly sweet Japanese apricot, and the gin and ginger mule, which is lighter but just as flavorful as a typical Moscow Mule.
One last thing to note: You can enter Wagamama at either the Fifth Ave or Broadway location to be served, and we recommend trying to snag a seat on the second floor to get a sweeping view of Madison Square Park.
Sign up here for our daily NYC email and be the first to get all the food/drink/fun New York has to offer.