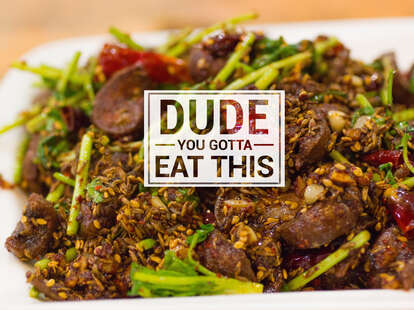 Welcome to Dude, You Gotta Eat This -- a new Thrillist series where we direct your eating attention toward new, under-the-radar, weird, or just plain awesome eats you need to go try around the city.
Now a humble mainstay, Golden Palace was part of a wave of Flushing restaurants that exposed New Yorkers to Northern Chinese cooking in the mid-to-late 2000s. Though it never garnered the esteem of Fu Ran, its Dongbei cousin South of Main Street, the food here can be quite tasty.
The dimly lit, low-key restaurant is best known for its plump dumplings, mastery of potatoes, and specialties like pork and cabbage cakes. But there are unexpected treasures in every nook here. And damn does this restaurant also have a way with offal. Case in point: the crispy lamb kidneys.
Served on a massive plate, the kidneys come sliced up like button mushrooms. They're seasoned, of course, with the ubiquitous tandem of cumin and dried chilies, which lends a characteristic earthy, spicy, warming presence to the dish while never overwhelming you.
These are kidneys that taste like kidneys ought to: gamey, a little bitter, and iron-y. They're fried just right, so they're crispy but not greasy and the offal's flavor is not lost to the peanut oil. There's some wilted cilantro, stems and all, which adds a nice touch of peppery greenery, but, let's be honest, you're here for the organ meat.
Sign up here for our daily NYC email and be the first to get all the food/drink/fun New York has to offer.
Chris Crowley is a journalist with an overzealous appetite. He's an editor at Grub Street, and his work has appeared on Serious Eats (where he wrote a column about the Bronx's restaurants for over two years), Punch, Narratively, and more. Follow him on Twitter.