Smashburger, the popular better-burger chain out of Denver, is giving away free cheeseburgers all day on Wednesday, March 18th, to celebrate the grand opening of its newest NYC restaurant. 
From 11am to 7pm, they're giving away one free Classic Smashburger per person at the new spot, located at 136 William Street down in the Financial District. The Classic Smash (pictured below) is a beef patty that's been smashed (duh), American cheese, ketchup, lettuce, tomato, pickles, onion, and Smash Sauce on an egg bun.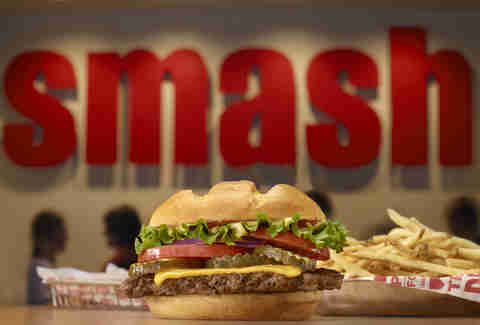 The new outpost is the second Smashburger location in Manhattan following the opening of its Midtown restaurant last April, which featured some new greasy goods like the the New Yorker Smashburger, topped with NY cheddar, garlic-grilled onions, spinach, tomato, and peppercorn aioli on a brioche bun, which, thankfully, will also be available at the new location. 
Aside from cheeseburgers, Smashburger also makes shakes -- a freaking Nutter Butter shake, for example -- and fries that are tossed in garlic, rosemary, olive oil, and then your mouth.
Editor's Note: This post has been updated to reflect new hours for the free burger promotion provided by Smashburger. 
Tony Merevick is Cities News Editor at Thrillist and wants all of the burgers right now. Send news tips to him at tony@thrillist.com and follow him on Twitter @tonymerevick.