The Kimchi Smoke Pop-Up series is coming to Jimmy's No. 43 next week (Feb. 15th - 17th), and along with bestsellers like the brisket and kimchi packed Austin cho, its bringing back favorites like ramen fried chicken and chonuts, the latter of which it describes as "100% ridiculousness." And we believe them.
If you're not familiar, but understandably intrigued, Kimchi Smoke's fried chicken ramen is hickory smoked chicken double dipped in soju batter, coated with instant ramen, and deep fried.
Recommended Video
This Amazing 'Breaking Bad' Pop-up Bar Is Coming to NYC
And the chonut -- you might want to sit down for this, like, forever -- is pan fried smoked brisked, bacon, American cheese, a bourbon-chipotle sauce, and a sunny-side-up egg on a fried brioche roll and then sprinkled with powdered sugar. "100% ridiculousness" indeed.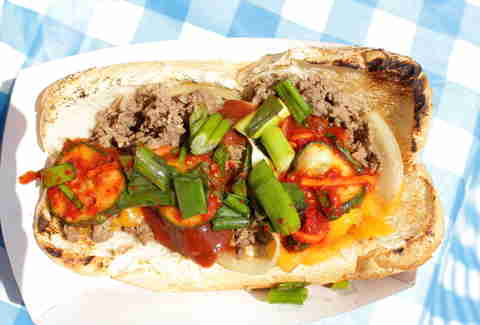 You'll also be able to get your hands on some Kimchi Smoke bestsellers like the Austin cho -- 12-18 hour smoked brisket, bourbon-chipotle sauce, and its signature smoke kimchi on a roll -- and the fat gangnam, which is hero stuffed with bulgogi, bourbon-chipotle sauce, grilled onions, American cheese, and of course, kimchi.
Chow down at the pop-up Feb. 15 - Feb. 17 from 5pm to 11pm.
Tony Merevick is Cities News Editor at Thrillist needs more fried chicken and ramen in his life, along with pizza. You can never have too much pizza. Follow him on Twitter @tonymerevick.
Previous Venue
Next Venue
Venue Description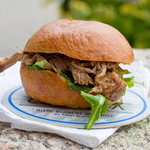 1. Jimmy's No. 43
43 E 7th St, New York, NY 10003
A downstairs joint in one of the most bar-heavy neighborhoods in the whole country, Jimmy's No. 43 has a perfectly sized and approachable craft beer selection without the pretense of being too exclusive. The staff insist that you sample a sip of beer first before committing, and the cozy environment and upscale food cap it off to make Jimmy's a neighborhood mainstay. It differentiates itself from other beer bars with an Asian-fusion menu featuring Filipino-inspired dishes like chicken wings adobo and pork belly tacos.