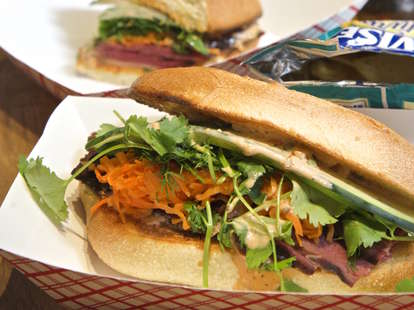 Katie Burton/Courtesy of Num Pang
Katie Burton/Courtesy of Num Pang
Everyone, get ready for a new riff on NYC's classic pastrami on rye sandwich. The Num Pang sandwich kings, Ben Daitz and Ratha Chaupoly, along with New York rock legend Adam "Ad-Rock" Horovitz of the Beastie Boys have created a hybrid that takes the smoked meat and surrounds it with the Cambodian flavors the shop is known for.
Appropriately named the The Ad-Rock Pang, the sandwich is the Num Pang duo's latest offering as part of their "Chefs Give Back" campaign, where they collaborate with their favorite chefs -- oh, and rock star idols -- to create sandwiches benefiting charities. A sando with a mission, the Ad-Rock Pang is Num Pang's signature toasted semolina bread packed with smoked meat from Mile End Deli, pickled carrots with toasted caraway, cilantro, dill, cucumbers, and a chili Russian dressing. For $16, you get it served with a spicy garlic dill picking spear, a bag of potato chips, and a cream soda.
The limited edition sandwich will drop March 17th and will be available at all Num Pang locations across its empire through April 15th. All of the proceeds will be split between Ad-Rock's charity of choice, Brooklyn Animal Resource Coalition, and Num Pang's charity of choice, Badass Brooklyn Animal Rescue because they all share a love for animals. Previously, the guys at Num Pang collaborated with chefs like Mario Batali, Jean-Georges, and Michael Anthony, according to a statement.
Tony Merevick is Cities News Editor at Thrillist and could eat several to help the animals. Send him news tips to tony@thrillist.com and follow him on Twitter @tonymerevick.