Ample Hills Creamery's new spot has an ice cream roof deck
You probably already know that Ample Hills Creamery is one of the best ice cream shops in America, but what you probably don't already know is that its brand-new spot in Gowanus (right near great BBQ and great shuffleboard) is a hybrid ice cream factory, parlor, and rooftop ice cream lounge slinging all kinds of only-available-here flavor insanity.
Unfortunately, since some jerk hasn't invented teleportation yet (thanks for nothing, scientists), you'll have to start downstairs, which -- to be fair -- is a totally pleasant, air-conditioned ice cream parlor on its own, with a big window so you can look into the ice cream-making process.
Pick out a cone flavor, like chocolate chip cookie or pretzel. There're no wrong answers, but there are, however, very right ones...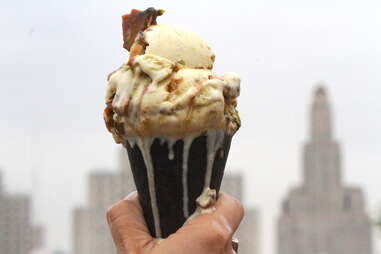 ... like the Pistachio Squared, pistachio ice cream with big hunks of pistachio brittle in it, in a chocolate cookie cone.
Or the Stout & Pretzels made with beer, chocolate, and pretzels, in a pretzel cone. In case you can't tell, eat these ASAP if you don't enjoy chocolatey hands. Oh, and make sure you're eating them...
... on a brightly colored, totally chill Adirondack chair on the roof, and scope out views of the Brooklyn skyline.
Plenty is on-hand besides straight-up ice cream cones, like sundaes, cookies, Stumptown Coffee, milkshakes, and floats -- including this one made with vanilla malted ice cream and Sprecher Orange Dream soda. This is how you spend a weekend afternoon.
Andrew Zimmer is Thrillist's NYC Editor, and he doesn't mind ice cream melting all over him just so he can take a photo. Follow him on Twitter and Instagram.