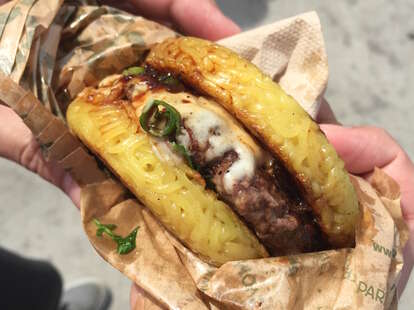 Smorgasburg, the giant weekend eating fest boasting some of NYC's best food stands, returned to Williamsburg and Brooklyn Bridge Park earlier this month, serving up a big lineup of new food vendors and dozens of longtime favorites, like Ramen Burgers and lobster rolls.
The bustling outdoor festival is held at East River State Park in Williamsburg on Saturdays and Brooklyn Bridge Park on Sundays through November, combining great weather (hopefully!), delicious food, and killer views of Manhattan, but this Sunday, May 3rd, the Brooklyn Bridge Park Smorgasburg is canceled for the Five Boro Bike Tour.
While it might be harder to get to the Williamsburg Smorgasburg these days thanks to the wonderful L train shutdown every weekend until May 18th, there are some helpful workarounds like $5 UberPOOL rides along the L line on weekends and a shuttle bus from Union Square to the festival on Saturdays thanks to a collaboration between vendor Big Mozz and Skedaddle. Anyway, if you haven't been able to make it out to the festival for subway or other lazier reasons, we've now solved that for you, so to get you even more amped here's a glimpse of what people have been chowing on (and what you're missing):


Follow us on Facebook for a steady stream of daily NYC stories, and be the first to get all the food/drink/fun/news New York has to offer.
Tony Merevick is Cities News Editor at Thrillist and wants to remind everyone to wear sunscreen to your favorite outdoor food fests. He learned the hard way. Send news tips to news@thrillist.com and follow him on Twitter @tonymerevick.