The pizza options in Hell's Kitchen just got a lot more interesting thanks to Annabel, a polished-yet-rustic pizza spot from the team behind neighborhood fave Thalia and MarkBurger that's getting crazy on the pizzas while you get crazy on pints of craft beer.
The bright, airy front area is divided from the wood-fired oven in the back by a beautifully curved bar.
Speaking of beautiful: the margarita totally is, thanks to a great chewy-yet-thin crust. But so are inventive rounds like this clam pie with slices of grilled octopus on it. Note: if you've never had octopus pizza, you're missing out.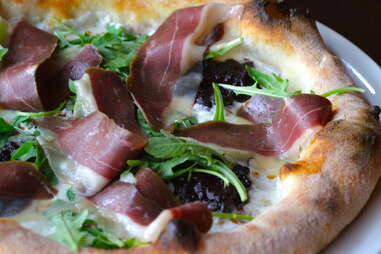 Even more, besides the clam and octopus pizza? This pie topped with duck prosciutto and blueberry chutney. Note: if you've never had a pie topped with duck prosciutto and blueberry chutney, you're missing out, too.
Want something more massive than pizza? Try this gargantuan braised pork shank heaped on a bed of polenta and topped with sweet pork and hazelnut gremolata.
There's also a series of pastas waiting for you, including fettuccine packed with seafood and Brussels sprouts.
And to make sure you don't break your streak of never eating pizza sans beer, they've got an excellent selection of cocktails and brews like the Elysian Avatar Jasmine, Radiant Pig Junior IPA, Ballast Point Sculpin, and Evil Twin's Ryan & The Beaster Bunny.
Andrew Zimmer is Thrillist's NYC Editor, and he eats pizza sans beer all the time. Sometimes. Follow him on Twitter and Instagram.