Dirty cars and donut cravings finally have something in common: the Westside Highway Car Wash.
The 67-year-old car wash (formerly the Underwest Car Wash) may be one of the oldest in NYC, but it's ahead of the times in installing an artisanal donut maker, Underwest Donuts.
According to Grub Street, Scott Levine, son-in-law of the car wash's owner and former sous chef at Chanterelle, is behind the new eatery, which is doling out cake 'nut iterations (made via donut robot) from traditional old-fashioneds to sugared numbers (Coco Raspberry, Cinnamon, Espresso Bean) to glazeds (Halva, Dark Chocolate, Coconut Lime, Brown Butter). And to wash it all down, they're serving Brooklyn Roasting Company coffee (because no donut should be enjoyed without java).
Recommended Video
This Pizza Dip Lets You Throw a New Kind of Pizza Party
Why put a donut shop in a car wash?
"It's quintessential Americana," Levine told Grub Street. "It's fun and nostalgic, and you know, serving coffee and donuts in a car wash seemed to be such a great marriage."
Good enough for us!
Pete Dombrosky is an Editorial Assistant at Thrillist and he believes all businesses should install artisanal donut makers. Join his cause on Twitter.
Previous Venue
Next Venue
Venue Description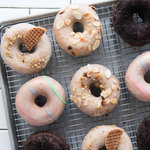 1. Underwest Donuts
638 W 47th St, New York, NY 10036
An unlikely spot for a donut shop, Underwest operates out of the Westside Highway Car Wash, lodged in a nifty little hallway that cooks up all kinds of glazed, sugared, and old-fashioned fried dough confections. The donuts are the work of Scott Levine, a former Chanterelle sous chef, whose father-in-law is part owner of the car wash.