Paid Content For
San Pellegrino
Courtesy of AÑEJO (edited)
Courtesy of AÑEJO (edited)
New York Instead of wasting everyone's time by cracking awful dad jokes about the quality of the food in "Hell's Kitchen," let's skip right to the stuff that really matters: namely, where to find the best burgers, tacos, cookies, and pizza in this most westerly of mid-Manhattan neighborhoods. These are the 12 restaurants most deserving of your time, money, and appetite in Hell's Kitchen. More Stuff You Will Like
<em>630 9th Ave</em><br />
You can't really go wrong with any of the burgers on offer at this local chain's flagship location -- like the cheddar bacon or the avocado ranch, for instance. That said, the star of the show has to be the Original 5 Napkin: caramelized onions, gruyere, and rosemary aioli atop a 10oz patty.
<em>450 10th Avenue</em><br />
Yes, a ton of the menu items here are gluten-free, but don't let that dissuade you in your quest for brunch domination: you can still get classic pancakes/chicken &amp; waffles in all their glutenous glory. Even better, gluten-free meals are served on&nbsp;square plates, so everyone can dine in peace (for once)
<em>836 9th Ave</em><br />
If you're even a&nbsp;casual&nbsp;bacon fan, and you haven't made the trip to this pork belly mecca, you need to seriously re-evaluate your priorities in life. Bacon flights, bacon chili cheese nachos, bacon&nbsp;steak&nbsp;-- hell, there's even a bacon caesar salad if you're watching your weight for some reason. You need to go to here, stat.
Putting the words "blue ribbon" in the name of your restaurant is usually a big red flag (jokes about colors!), but everything here -- from the sashimi to the California rolls -- lives up to the hype. Order the oxtail fried rice, if you feel like ruining your view of regular fried rice forever.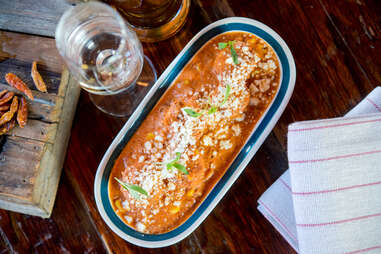 <em>668 10th Ave</em><br />
The small plates and tacos never disappoint here, but if you're&nbsp;sampling&nbsp;the vast array of agave spirits&nbsp;(you should),&nbsp;you'll probably wanna indulge in something a bit more substantial -- like, say, the whole branzino pibil. Yes, it's meant for two people, and yes, you should still get it.
<em>324 W 46th St</em><br />
Tucked away in a nondescript townhouse with no sign outside, this speakeasy's a favorite haunt for hungry celebs and celeb-watchers alike thanks to&nbsp;its&nbsp;excellent food menu&nbsp;-- we're talking Maine lobster rolls, Kobe beef hot dogs, and grilled fontina/bacon sandwiches.&nbsp;Seriously, it's not uncommon to see Alec Baldwin wolfing down deviled eggs here on a Tuesday night.
<em>600 11th Ave</em><br />
Whether you're in the mood for chili dogs from The Cannibal, ice cream from Ample Hills, or a cup of Blue Bottle coffee, the top-notch array of vendors at this indoor market on 11th Ave has you covered. Head on over, then decide what you're in the mood for once you're there.
<em>610 11th Ave</em><br />
To call&nbsp;this place is a&nbsp;"no-frills diner" is to sell it woefully short: yes, okay, that's exactly what it is, but sometimes all you really want is to order&nbsp;a burger and a milkshake from a menu with 100 different options on it. On those occasions, Pom Pom is your jam.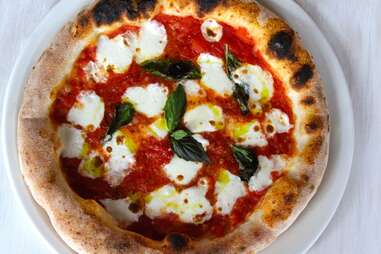 <em>649 9th Ave</em><br />
If you're hankering&nbsp;for a basic turkey and&nbsp;swiss on whole wheat,&nbsp;you've come to the wrong place. If, however, you're searching for Portuguese/Italian-inspired sandwiches with no fewer than five ingredients -- like the smoked salmon "Jerry" or the steamed shrimp "Lucy" -- you'll fit right in here.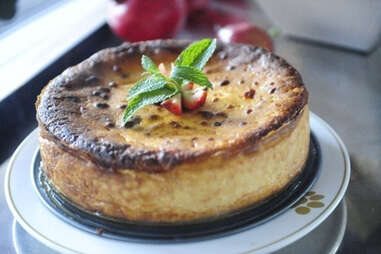 <em>501 W 51st St</em><br />
Walking to 10th Ave for Italian food is&nbsp;a huge ask -- hell, even doing it for&nbsp;money&nbsp;doesn't sound like a good time -- but the traditional fare at this corner eatery is&nbsp;well worth the trek. Come for the gnocchi, and stay for... well, for&nbsp;even <em>more</em>&nbsp;gnocchi, because the homemade pasta&nbsp;is seriously&nbsp;<em>that</em>&nbsp;good.
<em>362 W 45th St</em><br />
The multifarious cookie flavors on offer at this local favorite change by the month and the&nbsp;season, ranging from&nbsp;Funfetti&nbsp;(get this) and Fluffer Nutter (get this, too) to Caramel Apple Crisp (yes, get it) and Sch'mores&nbsp;(omg please). If anyone tells you, "that's too many flavors," cut them out of your life and buy more cookies.
Sign up here for our daily NYC email and be the first to get all the food/drink/fun New York has to offer.
Gianni Jaccoma is an editor for Thrillist, and he would drape himself in bacon if it was socially acceptable. Follow his greasy tweets @gjaccoma.