Because sometimes pesky things like chairs, tables, and waiters just get in the way of eating delicious food, and actual restaurants hate it when you shove those things out of the way, we've gathered up our favorite NYC food trucks, from cheesesteak purveyors, to entire pizza kitchens on wheels. We tried to keep things as honest as possible in regards to the purity of it being a "truck" -- if it was a brick-and-mortar first, or began as a cart/truck and grew into an empire (sorry, Calexico), it's out. You'll never have to make a reservation again! There may be a line or two though.
Phil's Steaks
Where To Find It: Right now, they're splitting time between Midtown East, Midtown West, and the World Financial Center. Check their schedule here
What To Get: The ultra-authentic Philly-steezed cheese steak "jawn" offers a can't-miss line up of steaks (Whiz, white American, peppers… ) but the melty Provolone wit' fried onions is the go-to.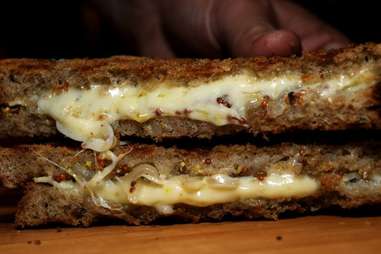 Milk Truck
Where To Find It: Stands at Smorgasburg on the weekends and pretty much all over the city on weekdays; call to confirm 646.504.5455
Dish To Get: This seemingly everywhere grilled cheese truck/stand has a solid revolving stable of creamy goodness, but you should check out the ham & cheese. With Niman Ranch applewood smoked ham, VT aged cheddar, and mustard, it's really everything a grilled ham and cheese should be.
Kevin Slush Truck
Where To Find It:Check their Twitter for locations or hit them up at Smorgasburg, Brooklyn Flea, and various other outposts around the city.
What To Get: They always keep everything fresh and seasonal with their flavors and mix-ins, but the spicy ginger slushie is about as far from the nonsense you get at 7-Eleven as possible.
El Olomega
Where To Find It:Red Hook Ballfields
Dish To Get: This year's winner of best food truck at the Vendy Awards, EO is the OG at the ever-lively Red Hook Ball Fields (which means if you miss 'em in October, you have to wait until ball field season next April -- but seriously, don't forget), where they serve their Salvadoran pancake-like tortillas filled with all kinds of goodness. If you're only doing one, do the pork.
Neapolitan Express
Where To Find It: Their trucks can often be found around Midtown and NYU; check their Twitter for current location
What To Get: You'll be amazed at the quality that trucks -- which are equipped with majestic, full-size pizza ovens -- can pump out when you score the Bufala DOP with San Marzano tomatoes, buffalo mozzarella, cherry tomatoes, and olive oil.
Korilla BBQ
Where To Find It: Rotating between Flatiron, SoHo, Fidi, Midtown, and Dumbo; check their truck finder
What To Get: The Pokinator taco set with pulled pork, bacon kimchi fried rice, kimchi slaw, their special BBQ sauce, and shredded Jack cheese.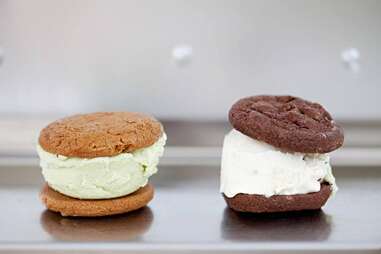 Coolhaus
Where To Find It: 53rd and Park, USQ in Front of Trader Joes, 20th and 5th; check their site for updates
Dish To Get: You can go with some really outrageous concoctions at this one (Peking Duck ice cream, potato, and butterscotch cookies, etc… ), and we suggest you do just that -- get as weird as possible via snickerdoodles with gin & tonic ice cream.
Street Meat
Where To Find It: Next to your bed Sunday morning; also on every street ever
Dish To Get: There're a couple heavy-hitters out there like Famous Halal Guys on 53rd & 6th, Kwik Meal, Rafiqi's, etc., but really as long as they've got that chicken and lamb over rice with white sauce and hot sauce you can't go wrong. Until you do. But that's part of the fun!