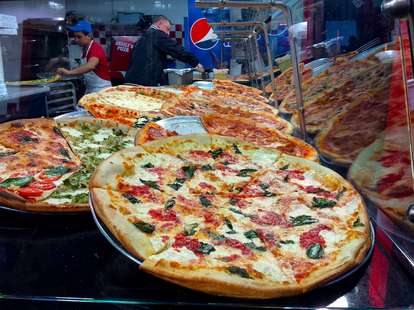 Jeff Somers
Jeff Somers
According to ThingsThatAreNotWorthArguingAboutBecauseTheyAreFacts.com, Hoboken has the best pizza in the world. And while that statement isn't up for discussion, which pie slingers do the best pizza in the world the best sort of is. After some serious deliberations, though, we landed on this list of Hoboken's 12 best pizza joints.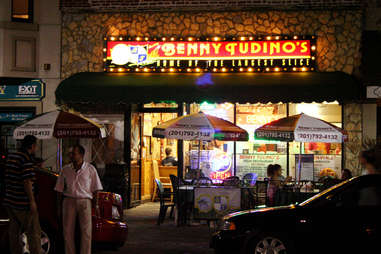 622 Washington St
Dating back to 1968, Benny Tudino's is an old-old-school pizzeria with probably the largest slices you've ever seen. Ever. It's also less-probably some of the best Jersey-style pizza you'll ever see and features a sweet, tangy sauce that sets it apart. Bonus: you can usually still find owner Bari "Benny" Drishti sitting in the front booth.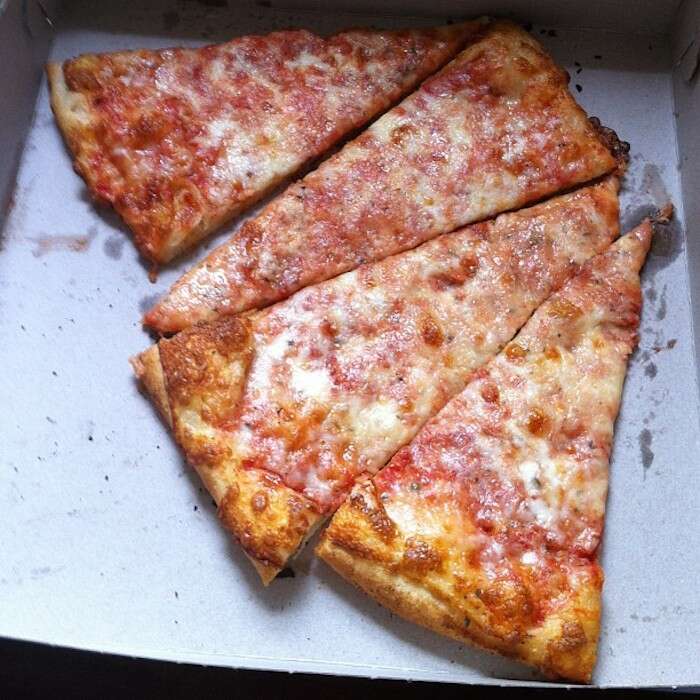 254 9th St
Torna looks a lot like a basement rec room that hasn't been renovated since the 1970s, but if you can get past all that, it's still one of the few places in Hoboken you can get a Sicilian-style pizza. Featuring slices with sauce baked right on and a perfectly chewy dough, it's also one of the few places you can get a great Sicilian-style pizza.
1118 Washington St
With a crust that's super thin and quite crispy, plus a sauce that's a little bit spicy (but never overused), this unassuming spot's pies are always on point. Go-to moves include town favorites like the vodka pizza, the white pizza, and the clam pie.
133 Clinton St
If you make the mistake of asking anyone in the place about the history of Grimaldi's, you'll get an earful about family betrayal, lawsuits, and why their coal brick-oven is different. Don't do it. Instead, just order one of their pizzas, which will show up at your table bubbling hot, and keep your head down. Oh, and there are no slices at Grimaldi's, although they do offer personal-size pies, which is fine by you.

603 Washington St
Giovanni's shares an exterior with a gym that makes the pair of them look like one super-confusing business. Ignore all that and head in for basics-nailing pizza with sauce that isn't very sweet -- it can be an acquired taste, but it works -- and crust that's dependably substantial and has a great flavor.
534 Adams St
Off the beaten path in Hoboken, Dozzino is a weird place. It opens in the morning, but only serves espresso until lunchtime, which begins whenever the owners feel like it (1pm at the latest... usually). It's billed as an "artisanal" pizza place, and that's definitely true, but it's also probably the only pizza joint in the universe (or maybe just Jersey) that has a bocce court in the back and (sometimes) a ramen pop-up in front. Dozzino takes a "farm-fresh" approach to pizza, which means sometimes running out of stuff, because it's literally brought in each morning. That makes the unusual pizzas (like the Diavola: a spiced-up wonder with mozzarella, tomatoes, red peppers, and Calabrese salami) some of the freshest and most flavorful you'll find. Check the chalkboard for the daily specials -- order the daily specials.
742 Garden St
Picture the pizza place you grabbed a slice at when you were a kid, and you know exactly what Mario's is like, especially if you grew up in Hoboken and Mario's was that place. The pizza is classic but the toppings can be modern, from Buffalo chicken, to bacon, to Caesar salad, plus Mario's also offers the oft-elusive Sicilian slice. If you've got a little league team or a Netflix marathon or something to feed, this would be the place to go.
1132 Willow Ave
Rosario's sits in a quiet little neighborhood way off the main drag of Hoboken, where it doesn't overdo the sauce, but does make the crust reliably crispy and old-school, landing on just the right side of burnt. The best part about Rosario's, aside from the warm and welcoming family-owned vibe, is a willingness to do just about anything. Go on in, tell the staff whatever your dream pizza is, and they'll make it happen.

342 Garden St
7 Stars is another place that goes wayyyy back to the days when Hoboken was burning down and inhabited by feral dogs (yes, both of these things actually happened), and as such isn't much to look at. It's a tiny place and has certainly spared every possible expense in the decorations budget. The pizzas and slices, however, rival Benny Tudino's in sheer enormity. Don't veer off classic course here, get an absolutely enormous plain slice or stick to the classic toppings. Trust us on this one.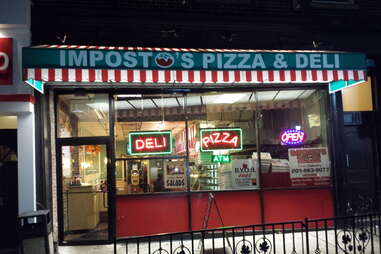 102 Washington St
Located near the PATH trains and bus depot that connect Hoboken with Manhattan, Imposto's is a solid contender for best classic pizza offerings, but more importantly it's located in the stumbling trajectory of every reveler rolling home either from a Manhattan soirée (that's what they have in Manhattan, right?) or a visit to the cluster of pubs around the train station. Not only can you not go wrong with the toothsome dough, tangy sauce, and robust topping offerings, but Imposto's has the superhuman knack for -- no matter what sounds you manage to make with your mouth -- magically getting you exactly what you want. Also, it's got the best Buffalo chicken pizza in Hoboken, if you're into that sort of thing, and really, who isn't at 2am?
89 Washington St
One of the newest pizza joints in Hoboken, Basile's is located between the train station and the Cake Boss bakery, so it sees a steady stream of tourists and late-night drunchie-seekers. The crust here is very crispy, which isn't to everyone's taste, but it makes for a sturdy base for the enormous amounts of cheese and toppings you get. Plus, there's a huge selection of gourmet slices. Mmm... gourmet slices.

740 Washington St
Margherita's isn't a pizza joint, really -- it's a BYOB family Italian restaurant that makes a great pizza. If you're looking for a little date-night ambiance instead of the Formica and fluorescents of most of Hoboken's other pizza elite, Margherita's is the place to be. The sauce and dough are made fresh on-site -- and both are very good -- and you're given the option of sitting down and having a bottle of wine and table service in a comfortable, family-friendly, and romantic place, which really should be the only option.
Sign up here for our daily NYC email and be the first to get all the food/drink/fun New York has to offer.
Jeff Somers is the author of We Are Not Good People, the Avery Cates series, and other novels and short stories, as well as a contributor to LifeInHoboken.com and the mad genius behind The Inner Swine zine. He drinks far too much for a coherent Internet presence but his ramblings can be followed on Twitter.