Holy Crap! Red Velvet Oreo Ice Cream Coming This Weekend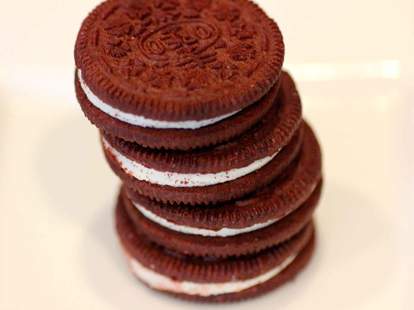 David Yoo of Davey's Ice Cream has apparently "got the goods." And by goods, we mean Red Velvet Oreos mixed into ice cream.
Just a few weeks after the brand new Red Velvet Oreo was revealed to the world, Davey's is blessing NYC with Red Velvet Oreo Cookies & Cream ice cream just in time for Valentine's Day. In an Instagram post, Davey's announced the flavor will drop on Friday at its East Village shop (137 First Avenue) and will be available through Valentine's Day weekend ... or while supplies last. And if that's not just the perfect sweet treat to share with your sweetheart, you can always name a hissing cockroach at the Bronx Zoo after them...
Probably best to stick with ice cream, though.
By the way, we tasted the new Red Velvet Oreos and the cream cheese-flavored creme is the star of the cookie.
(h/t Grub Street)
Tony Merevick is Cities News Editor at Thrillist and enjoys scoops -- both kinds. Follow him on Twitter @tonymerevick.