Katz's Deli

| Cole Saladino/Thrillist
Katz's Deli

| Cole Saladino/Thrillist
New York City paves the way for food trends. It's a city where purple burgers, clear dessert dumplings, and scallion pancake sandwiches find a home and nobody bats an eye. But it's also a city that's steeped in classics, a cultural hotbed with centuries of experience perfecting pizzas, pastries, breads, and spreads. Today, nearly any food can come New York-style and nearly every person wants a bite of the Big Apple.
Thankfully, the 21st century has made it easier than ever for outsiders to taste regional foods without booking a plane ticket, and many of the age-old establishments that shaped New York's culinary scene now ship their dishes nationwide. Here are 10 quintessential NYC foods that you can send to your loved ones to show them how much you care… because the way to a person's heart is through their stomach.
Made in Downtown Brooklyn
Nowhere does cheesecake like New York City, and few cheesecakes compare to Junior's Original. Their 8-inch masterpieces are made fresh in Brooklyn using kosher dairy products, eggs, and a dash of vanilla. Each weighs about 3 pounds and serves 12-14 self-controlled people. Throughout Junior's 70-year history, their NY cheesecake has been called "the best" by The Village Voice, New York magazine, and The Wall Street Journal -- who wouldn't want that as a gift?
Cost: $59.95 + free shipping
Made in East Williamsburg
"Iconic" and "pizza" go hand in hand in NYC as a slice is one of the city's signature foods. Roberta's Pizza is among the best pizzerias Gothamites can choose from -- Beyoncé and Hillary wouldn't eat just anywhere -- and thanks to their frozen pizza shipping system, Americans outside of the Big Apple can get a taste of royalty. Their vegetarian-friendly combo pack includes one margherita pizza and one Baby Sinclair (charred dinosaur kale, garlic, chiles, and cheese). They also have four-packs, six-packs, and eight-packs if money's no concern.
Cost: $59 + free shipping
Made in Little Italy
The colorful Italian cookies that infiltrated NYC bakeries are best served at Ferrara Bakery, a Little Italy mainstay that's been mastering its craft since 1892. They're technically more like cake bites than cookies, comprised of three almond cake layers separated by apricot jam and iced with chocolate. One package of cookies weighs 1.5 pounds and contains about 30 cookies, and if for some reason the recipient doesn't eat them in one sitting, they'll stay fresh in the fridge for one week or in the freezer for six months.
Cost: $37.50 before shipping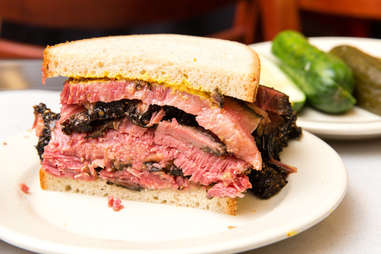 Made in Lower East Side
People can't virtually reenact the famous When Harry Met Sally scene, but they can get their hands on the meats that make Katz's Deli one of NYC's best restaurants with some of the best sandwiches. Their Taste of New York package is way more than just a taste: It includes a pound of pastrami, a pound of corned beef, a 1.5-pound hard salami, half a loaf of seedless rye bread, a quart of full sour pickles, six frankfurters, six buns, a pound of mustard, a pound of sauerkraut, and six bagels.
Cost: $150 before shipping
Made in Harlem
Magnolia Bakery's banana pudding used to be a delicacy only available to in-person customers, but now, anyone can enjoy the creamy, kosher dessert -- without waiting in line. In the bakery, vanilla pudding is layered with fresh bananas and Nilla wafers and doled into six large cups that weigh about a pound and serve one to two people each. They're shipped out with ice packs and ready for refrigeration upon arrival.
Cost: $65 before shipping
Made in Union Square
Breads knows breads, and their tastiest carbs come in the form of babkas, braided Jewish treats from Poland that New Yorkers have come to embrace. For maximum gratification, ship a three-pack of their 9-inch babkas, which includes two chocolate loaves and one cinnamon loaf. Chocolate babkas are made with Nutella, dark chocolate chips, and sugar syrup; cinnamon babkas are made with cinnamon, raisins, walnuts, and sugar syrup. Each babka serves four to six people, and each babka is delicious.
Cost: $49.95 before shipping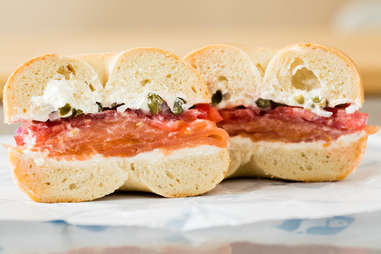 Made in Brooklyn Navy Yard
Don't tell New Jersey, but NYC bagels rank supreme. And no bagel topping is more New York than salmon. And few salmon bagels are more respected than Russ & Daughters'. Their Smoked Salmon Medley spreads the love far and wide, containing eight assorted bagels, a pound of cream cheese, a half-pound of Scottish smoked salmon, a half-pound of gravlox, a half-pound of pastrami-cured salmon, and a 3-ounce jar of capers. If you'd prefer to ship something simpler, Russ & Daughters' top-rated bagels can be shipped on their own for $15/dozen.
Cost: $169 + free shipping $15/dozen before shipping
Made in Harlem
You'll probably get Levain cookies in the mail sooner than you'd get through the line at their West 74th Street location. Their chocolate chip walnut cookies aren't just a Thrillist favorite, they're a city favorite that tourists and locals alike go through great lengths to try. But honestly, all flavors are worth writing home about (or just sending home). Give the gooey gift of Levain to the sweet-toothed loves in your life in assorted quantities of four, eight, or 12.
Cost: Packs start at $27 before shipping
Made in Lower East Side
Bialys are a Jewish treat that Kossar's spent over 80 years popularizing in NYC. Now you can find them all around town, but if you're looking for authentic, Kossar's your spot. They come in five varieties -- onion, garlic, sesame, everything, and sundried tomatoes -- and you can mix and match with up to four kinds to create the perfect dozen.
Cost: $44 + free shipping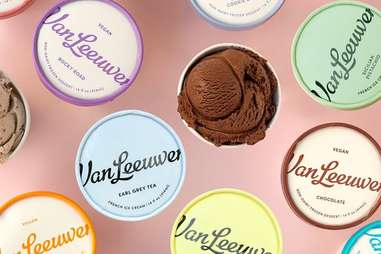 Made in Greenpoint
Vegan-friendly ice cream chain Van Leeuwen began with a simple scoop truck in New York City and soon became one of the city's best ice cream shops with locations all over town. All 34 flavors -- 16 dairy-based and 18 vegan -- are on offer: Choose the six you want and they'll be scooped into pint-sized containers, packaged with dry ice, and shipped to whichever lucky person's on the receiving end.
Cost: $89 + free shipping
Sign up here for our daily NYC email and be the first to get all the food/drink/fun New York has to offer.