NYC Restaurant Week is officially here for your clean-your-plate-and-get-dessert pleasure. The basics: you get three course meals pre fixe for lunch ($29) and dinner ($42). The good stuff: we're rounding up everything you need to know to dine like royalty from July 25th to August 19th. Wear your eating pants.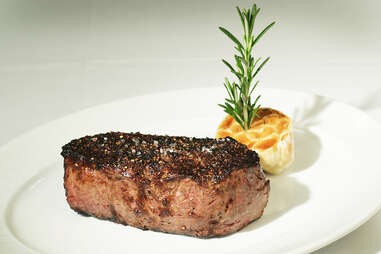 Go to a steakhouse! Go. To. A. Steakhouse.
We can't repeat this enough! Pasta is lovely any day of the week and tacos hit the spot literally every time they aim for it, but steak? Your wallet needs to be game for that to happen, and there's probably no better time for those who earn less-than-fat stacks to sample the best steakhouses the city has to offer. Cut into some juicy filet mignon while staring at the lauded Grand Central ceiling at Michael Jordan's The Steakhouse, get a nice dry aged sirloin at the Capital Grille, or make your way to the ever-popular Gallagher's (yes, the spot with their own meat-aging room). Have the charred, dry-aged strip at (where else?) the Strip House Speakeasy, or get a 9oz hanger steak at American Cut in Midtown from both the lunch and dinner menus. If it sounds like a pretty good deal to you, that's because it is.
Get a taste of fame and dine at a TV Chef's restaurant
You can finally sample the fare dreamed up by some of the most famous chefs out there, and for a fraction of what you would normally pay. Head to Mario Batali's Lupa for a three-course lunch complete with a fennel salad and grilled pork belly, or his other restaurant Casa Mono. At Tom Colicchio's Craftbar you can get a taste of pecorino risotto balls and a soft shell crab sandwich, then decide whether it passes your personal "quick-fire" challenge.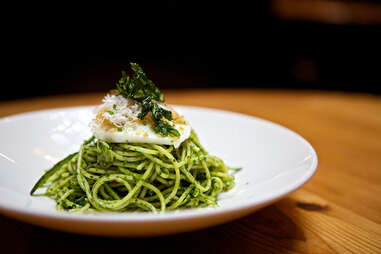 Dine at restaurants that have more awards than your perfect older brother
Oh, you thought you had to save up a month's worth of rent money to afford to dine at a restaurant with a James Beard Award or Michelin Star? Think again. The Michelin-starred Breslin Bar and Dining Room at the Ace Hotel -- one of April Bloomfield's six restaurants -- is offering mouthwatering beef burgers with English cheddar and Arctic char with cucumbers, crème fraîche, and dill as part of its NYC Restaurant Week menu. Chef Marco Canora at Hearth in the East Village has been nominated twice for a James Beard "Best Chef" award, and you can taste beef and ricotta meatballs over a "cacio e pepe" polenta as part of your three-course meal. James Beard award winner Charlie Palmer himself recommended the seared scallops at his joint Charlie Palmer at the Knick -- not a suggestion to take lightly.
Explore a Different Borough
Because obviously there's more to NYC than Manhattan, it's definitely time to put that MetroCard to good use. Venture over to Bay Ridge, Brooklyn for some homestyle Middle Eastern fare at Tanoreen and dip that pita bread like a pro in one of the biggest Arab neighborhoods in the city. Still feeling kind of Mediterranean but all hummused out? We all know there's no better area in the city for authentic Greek food than Astoria, so mosey on down Queens for some true Hellenic eats at MP Taverna. Or just keep it simple and Italian in Staten Island; take the ferry (it's free!) and slurp up some pasta at Brioso.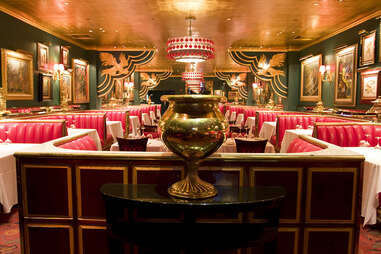 Dine at legendary NYC restaurants
If you've got an NYC Restaurant Bucket list (and if you don't, you should), these places should surely be on it. Nosh on some stroganoff in the same spot Madonna used to be a coat check girl (The Russian Tea Room), bite into some strawberry shortcake where John Lennon used to celebrate his birthday (Tavern on the Green), and get a taste of the gilded New York of old where Billie Holiday used to come in for dinner (The Monkey Bar).
Check for last minute openings
James Beard-winning chef Charlie Palmer had some advice to offer up for those looking to conquer NYC Restaurant Week, especially at super popular spots that are known to get busy like his resto Charlie Palmer at the Knick. "For prime reservation times," he says, "reserve early, as our phones started ringing the moment reservation lines opened on Monday. Also, a lot of people make reservations in bulk and then cancel, so check for last minute openings, too."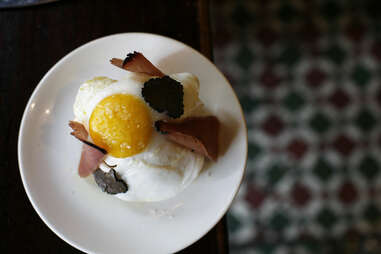 Check out what everyone else is eating
There are literally hundreds of menus boasting all things buttered, baked, and broiled. Because that could get a little bit daunting, feast your eyes on the Instagram hashtag #NYCRestaurantWeek to scope out other dishes so you can have a little of what she's having.
Make a note of the maximum number of guests allowed per party
While most restaurants don't have a limit to how many hungry souls can participate per party, it's worth calling ahead to ask if you're not sure. Some restaurants have restrictions on the number of guests at your table -- you can't take a football team to Fig & Olive because the cap is 10, and you can't third wheel your friend's date at the illustrious Mr. Chow's because the cap is two diners max.
Have an NYC Restaurant Week meal during the weekend
While NYC Restaurant Week is officially from Monday to Friday, you can find some establishments offering Sunday brunch, lunch, and dinner. Have a quick bite at Molyvos right before seeing Hamilton or Sunday brunch at the ever popular DBGB Kitchen to finish your weekend off right.
Get a little adventurous
Now's not the time to stick with your staid favorites. If kangaroo meat is on the menu, you should be planning on putting it in your stomach in the near future. And, spoiler alert: it's totally on the menu. Rip into the Kangaroo Burger at Burke & Wills, or bite into some crispy alligator at, where else, Bo's Kitchen & Bar Maybe the Duck Heart dumplings at Craftbar, with bacon, a fried egg, and black garlic vinaigrette, are more your speed? Either way, it's time your tastebuds left their comfort zone.
Stay on the lookout for additional deals
If you read the NYC Restaurant Week menus closely, you'll see a couple of great deals in the fine print. If you try out Obicà and present your check within 30 days of your meal, you get complimentary drinks!
Feast on NYC classics you need to have eaten, like, yesterday
When we consulted our list of NYC foods you have to try before you die, we were thrilled to discover some sweet, sweet NYC Restaurant Week overlap. Nibble some Tea Pastries from the famed Plaza Hotel's Palm Court, and dig into Delmonico's Lobster 1876. Do the right thing for your tastebuds.