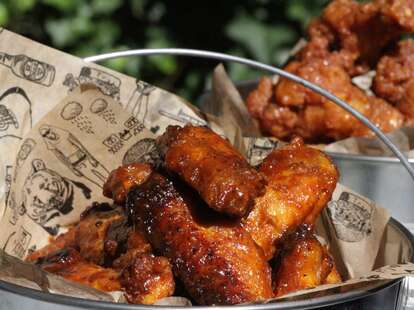 Over the past year or so, Hudson Hotel has decided it really wants to fill you with food and drink -- thank you Hudson Lodge, Tequila Park, and Hudson Common -- so the fact that they've now created Hudson Stadium, which is dedicated to rooftop tailgating and crazy types of wings, shouldn't be much of a surprise. So basically, don't let something stupid like "tickets to the game" get in your way of outdoor pre-event revelry this football season.
Show up early (it opens at noon) and stake out one of the cornhole tables they've got set up on the turf.
Now would also be a good time to order a rolling cooler of 40 beers.
Wings will certainly come, and they'll come in amazing forms, but it's early, so grab one of their breakfast burritos with house-made chorizo to start your day.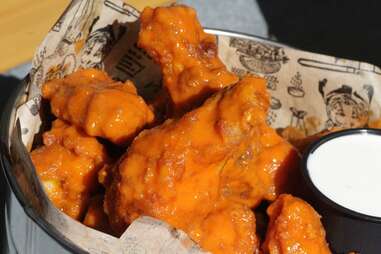 Like the other Hudson spots, food follows the theme of "Common" and "Uncommon". Common wings mean Buffalo (plus grilled Carolina BBQ and habanero) with sauce that's enriched with plenty of delicious butter.
As for "Uncommon" styles, these chicken Parm wings are tossed in marinara and cheese before being fried, then served with a Parm dusting and marinara. Perhaps unsurprisingly, but definitely magically, it actually tastes like chicken Parm in wing form.
And if there was such thing as a dessert wing, this might be it. Chicken and waffle wings with hints of vanilla that've been battered, rolled in bits of waffle, fried, then avalanched atop a waffle and covered in maple syrup.
If you didn't save room for an epic cheesesteak with thinly sliced ribeye topped with homemade Whiz, poblano peppers, and onions, you effed up big time.
The cheesesteak comes with an "Uncommon" counterpart as well: a massive mash of shredded pork shoulder and belly, broccoli rabe, roasted caramelized garlic, and some awesomely melty Provolone.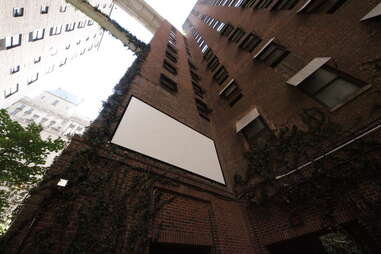 While most of the actual watching of football will be done inside, they've got this massive projection screen up for the night games, so maybe go easy on the coolers filled with beer at noon, bro.