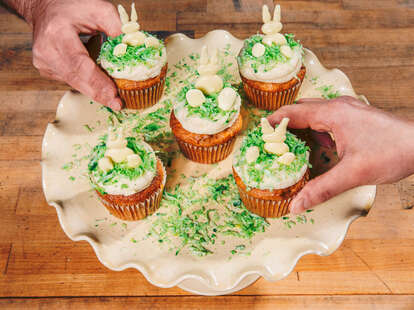 Photo by Cole Saladino for Thrillist
Photo by Cole Saladino for Thrillist
Bunny-topped cupcakes and colorful eggs can only mean one thing: Spring is here. Easter is the perfect opportunity to welcome its floral-patterned return, and Katy Kinch—owner and baker at Buttermilk Bakeshop in Brooklyn, New York—is especially excited. "I think there's a light at the end of the tunnel [after] what the last two years have done to all of us in the pandemic," Kinch says. "We can sit in the light, outside in the breeze, hopefully without masks soon. The wind on my face is going to feel different for a while." The return of springtime also ushers in lighter seasonal ingredients. Winter is all about rich, chocolatey treats, but spring, to Kinch, means fruity flavor profiles.
One of her favorite treats to enjoy around Easter is hummingbird cake. "I think the hummingbird cake is super underrated," Kinch says. Carrot cake gets all the glory come Easter, but the lesser-known hummingbird cake (made popular in the South) is made with bananas, pineapple, coconut, and pecans. "And it's not just a cake. There's more texture because there are so many other things in it. It tends to be lighter and not so dense," she says.
One of Buttermilk's fortes is cupcakes, and the hummingbird cake is easily transformed into individual treats. When it comes to topping them off, Kinch uses a cream cheese frosting, which is traditional for a hummingbird cake and has the added benefit of not being overly sweet.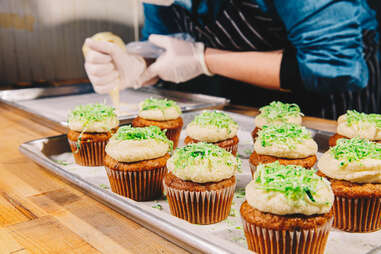 If you struggle with cream cheese frosting (as this writer does), Kinch says that the cream cheese and butter should be the same temperature—as close to room temperature as possible. "Every time I get a new staff member, it's the tester of your buttercream skills," she laughs.
To nail the frosting, Kinch suggests creaming the cream cheese first. "You have to scrape the bottom because, as you whip it, the top becomes aerated, but the bottom part that's colder and sticks to the bowl will stay dense," she explains. Check to make sure there aren't inconsistencies and then add the butter (which should be the same temperature!) in stages.
"When you start to see lumps, stop what you're doing and let it mix. Sugar is a liquefier; it makes it looser and then you can't get any sort of lumps out," Kinch explains. So if you have any lumps and keep adding sugar, you're going to have lumps the whole time and the frosting won't be worthy of your springtime fête.
Easter traditions may have evolved over the years, but a few activities remain relatively unchanged. From snacking on scrumptious pastries to dressing up colorful Easter eggs, Target is your one-stop shop for all these springtime staples. With same-day delivery and curbside order pickup available, Target makes it easy to get what you need—when you need it.
Don't forget the adorable garnishes. Kinch recommends tossing some shredded coconut in a drop of green food coloring to resemble grass. You can then adorn your cupcakes with mini eggs. "If you want to go super crazy, you could take those eggs, buy edible glitter, and splatter it on to make the eggs more robin-y," she says. Or keep it simple with some chocolate bunnies.
Hummingbird Cupcake Recipe
Ingredients for cupcakes:
• 6 ¾ ounces flour
• 7 ½ ounces granulated sugar
• ½ teaspoon baking soda
• ½ teaspoon of cinnamon
• ¼ teaspoon of salt
• 2 eggs
• 2 ripe bananas
• ½ cup fresh or canned pineapple
• 2 ½ ounces canola oil
• 1 teaspoon vanilla extract
• 3 ounces toasted pecans
Directions:
1. Lightly toast pecans in the oven at 350 degrees for 5-6 minutes.
2. Combine flour, baking soda, cinnamon, and salt in a bowl, and whisk until combined.
3. In a stand mixer, combine bananas and granulated sugar. Mix until there are no large banana chunks. While mixing, add eggs one at a time.
4. Once combined, slowly add canola oil and vanilla extract. Once fully combined, add pineapple until combined.
5. Add dry mixture into the liquid mixture, mix with the paddle until combined. Fold in pecans with the paddle.
6. Scoop batter into lined muffin tin and bake at 350 degrees for 14-18 minutes.
7. Let chill for 1 hour before frosting cupcakes.
Ingredients for frosting:
• 1 pound cream cheese
• ½ pound butter
• ½ pound confectioners' sugar, sifted
• Pinch of salt
• Pinch of cinnamon
Directions:
1. Let cream cheese and butter soften to room temperature before starting.
2. In a mixer, combine cream cheese and butter. Mix until smooth with no lumps, scraping sides and bottom of the mixing bowl often.
3. Slowly add confectioners' sugar until combined.
4. Add salt and cinnamon. Mix until frosting becomes light and fluffy.
5. Once cupcakes are cooled, decorate and serve.
Lia Picard is an Atlanta-based journalist writing about food, travel, and a variety of other topics. Her work appears in the New York Times, the Washington Post, Wine Enthusiast, and CNN Travel.