The Nugget Spot, the place that blessed NYC with delicious bite-size brilliance -- like chicken nuggets crusted with craziness like sweet Cap'n Crunch-esque cereal or everything bagel crust -- has unleashed its latest creation, Nugchos, or chicken nuggets wearing a disguise of nacho toppings. 
Aside from having a great name, Nugchos, which launched as a special for one week only starting Friday, March 27th, also sound delicious. They're chicken breast nuggets deep fried with a corn tortilla crust and then covered with nacho queso, pic do gallo, and jalapenos. 
The specialty nuggets purveyor also has a few more specials up their greasy sleeves, which will roll out each week. Here's a preview of the deliciousness to come (in the order that they'll appear):
Recommended Video
This Restaurant Gives Brunch a Punjabi Twist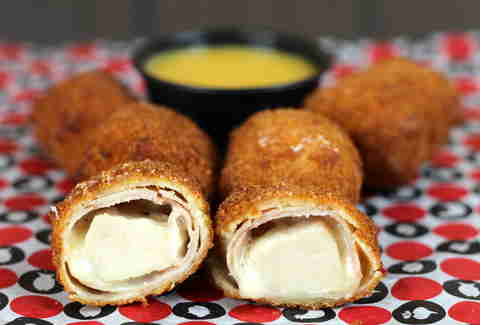 Nuggets in Paris - April 3rd
First there were chicken nuggets meets nachos, and after that, comes The Nugget Spot's take on chicken nuggets meets Cordon Blue -- with chicken nuggets wrapped with black forest ham and gruyere cheese and served with a side of honey mustard.
The Cuban Link - April 10th
Instead of chicken, they went with pork shoulder nuggets here and then packed in some black forest ham, pickles and rolled the whole thing in a cracker crust and served it with a fancy garlic aioli dipping sauce.
Uncle Vinny - April 17th
Think chicken parm, but you know, as a nugget. These bad boys come with a breadcrumb crust, spicy marinara sauce, and mozzarella cheese -- all served atop a bed of pasta.
Tony Merevick is Cities News Editor at Thrillist and could eat chicken nuggets every day of his life, and is pretty damn close to that at this point. Send news tips to him at tony@thrillist.com and follow him on Twitter @tonymereivck.