A Classic Brazilian Eatery Makes Its Grand Return to Midtown, and It's a Family Affair
Brothers Carlos and Victor Pedro reopened Ipanema in a new location and continue the legacy of their father's original restaurant.
Published on 5/26/2022 at 12:00 PM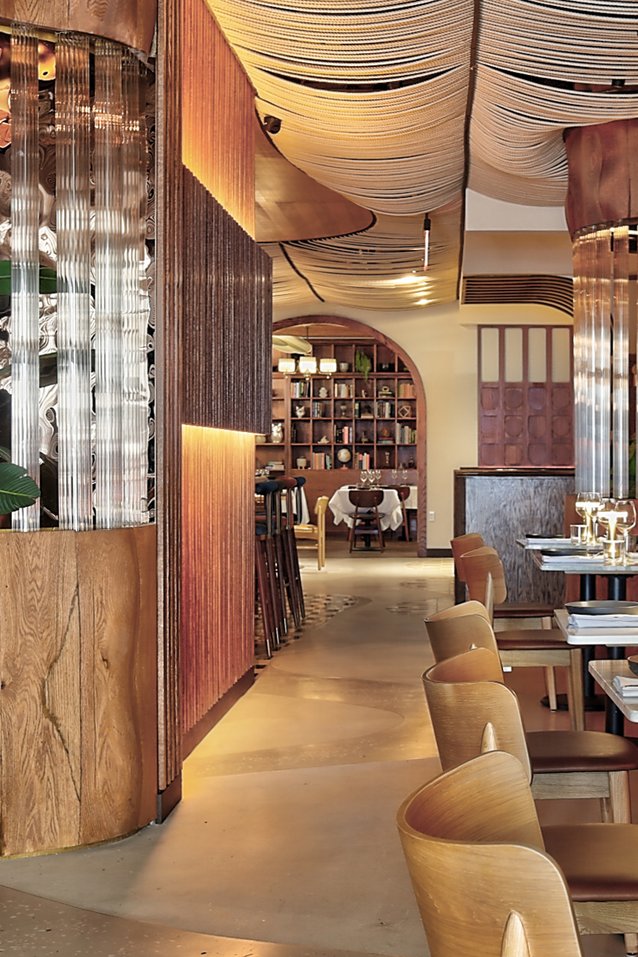 Interior view of Ipanema | Photo by Melissa Hom
For sibling co-owners, Carlos and Victor Pedro, opening a new venture in the NYC restaurant world is more than just a culinary or financial pursuit—but instead, an homage to their father.
As the restaurateur and founder of the classic Midtown stalwart Ipanema, their father, Alfredo Pedro—who currently resides in Portugal and oversees the family hotel and restaurant—first opened his original Manhattan eatery in 1979 on West 46th Street in an area known as Little Brazil. And for more than four decades until it closed in 2021, it was widely considered as one of the top local destinations for Brazilian and Portuguese fare.
From left to right: Carlos Pedro, Alfredo Pedro and Victor Pedro | Photo by Melissa Hom
Now, the brothers are reigniting the indelible impact Ipanema had and continuing the family legacy by reopening the concept themselves at a new location located ten blocks south on West 36th Street.
"Reopening Ipanema has felt like reviving a family member," says Carlos. "There's an immense sense of pride for both of us to carry the torch of the family business forward. We've never known life without Ipanema and hope that continues to be the case."
Touches of the Pedro family's culinary history can be found throughout all aspects of the revival, but, namely, is evident in the food program.
Bitoque | Photo by Melissa Hom
Bitoque | Photo by Melissa Hom
Helmed by Brazil native, chef Giancarlo Junyent (Temple Court, Berimbau Brazilian Kitchen), the menu features contemporary takes on traditional Brazilian and Portuguese dishes as well as passed down old-school recipes that were guest favorites at the original Ipanema, like the Bitoque (strip steak, potato gratin, and egg). Other highlights include cold dishes such as Cavalinha (cured mackerel, smoked aioli, citrus, ponzu) and larger offerings like Moqueca (a fish stew with halibut, clams, mussels, coconut milk). For desserts, pastry chef Alejandra Nicolon (Eleven Madison Park, Per Se) whips up treats like the Bolo de Rollo (a many layered cake with guava rose ganache and crème fraîche).
Ipanema's main bar area | Photo by Melissa Hom
Beverage-wise, Brazilian cocktail expert, Marcio Silva (Guilhotina in São Paulo), designed a selection of specialty drinks with options like the Daikrina (rum, cachaça, chardonnay, lime) and Upperhand (mezcal, cherry liqueur, agave, bitters).
Within the 80-seat main dining room, the Pedros replicated a similar warm atmosphere as the original Ipanema through an installation of cloth ropes across the ceiling, wood accents, and family heirlooms on display. Further exploring the space, guests will discover an intimate private dining room in the back and a 60-seat cocktail lounge on the second floor. And located next door is Bica, a new all day cafe also opened by the brothers.
Ipanema is now open Tuesday–Saturday from 5:30 pm–10:30 pm at 3 West 36th Street in Midtown. The upstairs cocktail lounge, which is slated to open in the next few weeks, will run Tuesday and Wednesday from 4 pm–12 am plus Thursday–Saturday 4 pm–2 am. Reservations can be made via Resy.
Izzy Baskette is a Staff Writer for Thrillist New York. Find her on Instagram.