Katz's Comes to Brooklyn -- and It's Not Quite the Same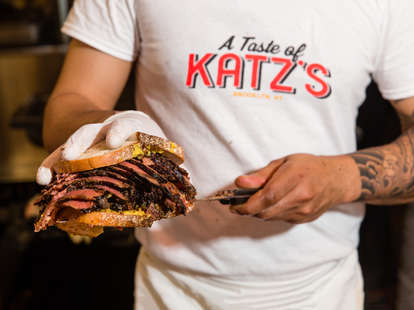 Step in line at A Taste of Katz's in Brooklyn's new DeKalb Market Hall behind a gaggle of shoppers lugging their weight in Century 21 bags and place your order at the counter. Unlike the original kosher-style Jewish deli (which has been in operation since 1888), you won't need a ticket here.
The original Katz's has occupied the corner of East Houston and Ludlow Street on the Lower East Side since 1917, with everyone from Midwestern tourists to local deli lovers lining up to spend some time among the clamor of clinking plates and wafting scents of fresh-carved meat. But after 129 years slinging mountain-high pastrami on rye, corned beef sandwiches, matzo ball soup, and knockwurst with beans, Katz's has made the decision to expand, with its first-ever non-OG location inside Brooklyn's buzziest new food hall.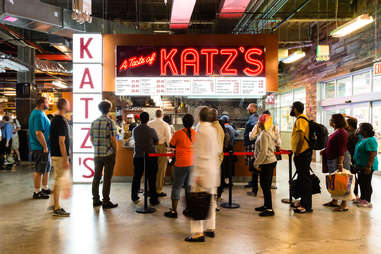 With the growing momentum of big-name chefs opening stalls and stands rather than stand-alone restaurants, a market outpost seemed like a natural move for the deli. "We've always looked for ways to provide the authentic taste of Katz's to more people," says Jake Dell, the deli's 29-year-old, third-generation owner. A stand is a great way to reach the masses for sure, but it also comes with the added benefit of a relatively low overhead in an increasingly expensive city. (Dell owns the building that houses the original Katz's, so he doesn't have to worry about landlords and rent hikes.) Dell says he was "approached by other markets before" but the 60,000 square foot, 40-vendor DeKalb Market Hall in Downtown Brooklyn was the one that made the most sense. "Many of our long-time customers come to Manhattan from Brooklyn, so opening an outpost in their neighborhood felt right."
For the new spot, Dell didn't set out to duplicate the original Katz's. "As our sign reads, this is only 'A Taste of Katz's,'" he explains. "There is no way to fully recreate the experience and nostalgia -- the look, the sounds, the smells -- of our Lower East Side location as a long-standing NYC institution."
There's certainly a lot of the deli's defining characteristics missing at the new stand. Part of the excitement of the original Katz's is the ordering system -- taking your ticket, getting in line at the counter, chatting with the carver about the particulars of your order (and maybe even getting a sample in the process), and absolutely, under no conditions, losing your ticket.
At the new Katz's, things are far simpler (and less personal): sans tickets, customers peruse the menu board, place an order, and wait to pick it up from a nearby window, like at most fast-casual restaurants. You can still watch the pros whittle slabs of pastrami and corned beef into slices, but there's far less opportunity for banter (and samples).
There are no photos and testimonials of Billy Crystal, Meg Ryan, and Bill Clinton hanging on the walls (there are no walls!). There's no nostalgia from countless film scenes filmed at the tables and late-nights hunched over Reubens and Cel-Ray sodas and beers. The place isn't 24 hours, either -- DeKalb Market closes at 9pm on weeknights and 10pm on weekends. Seating is extremely limited, so chances are you'll have to take your meal home, or eat awkwardly in a crowded mall.
Still, the food is every bit as good as it is at the original. Just like at the Lower East Side store, the famed pastrami is cured and rubbed in a spice blend that includes onion, garlic, pepper, and coriander (the specifics are closely guarded secret), gently smoked for a few days over wood chips, boiled until supple, steamed until even more tender, then sliced to order and piled in a precariously tall tower, kept in place with two slices of rye bread. Hot dogs are snappy and super flavorful. Latkes are golden, crispy, and just greasy enough. Baseball-sized matzo balls swim in rich dill-scented chicken stock. The menu is slightly abbreviated, but it's got the classics. And the prices are the same as Manhattan, too -- $21.45 for a pastrami on rye, which anyone who's eyed the staggering size before knows is a pretty fair sum.
If you're craving a serious pastrami sandwich with a shorter wait and no fuss, head to Brooklyn; but if it's the true Katz's experience you're looking for, stick with the original.
Sign up here for our daily NYC email and be the first to get all the food/drink/fun New York has to offer.
Hannah Howard is a food writer who lives in Brooklyn. Her memoir, Feast: True Love In and Out of the Kitchen, is coming out in 2018. Follow her on Instagram and Twitter.