Things You Didn't Know About Katz's, NYC's Most Beloved Deli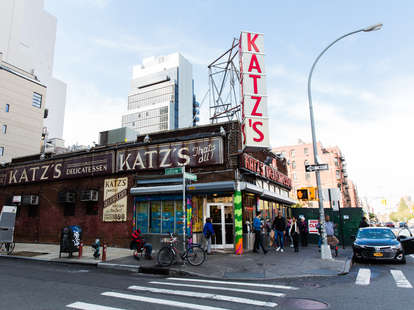 Things you definitely already know about Katz's: it's a Lower East Side institution with a century-plus-long track record, Meg Ryan once faked an orgasm there, and, most importantly, it has the best pastrami in the city. Katz's is one of those rare longtime establishments (it's the oldest Jewish deli on Earth) that actually lives up to the hype, meaning it's constantly packed not just with tourists, but locals as well -- everyone after the same piled-high pastrami sandwich.
But as widely publicized as Katz's may be, there's still so much about the deli you don't know. Like, can you really get in trouble for losing your ticket? We sat down with Katz's youngest-ever owner, Jake Dell, whose family inherited the store in 1988, to find out everything you need to know about the deli.
There really is a penalty for losing your ticket
All who pass through the doors of Katz's are issued a ticket -- it's not a gimmick; it's a way for the restaurant to keep track of what patrons order. Multiple signs threaten that failure to return your ticket at the end of the meal will result in a $50 fine, but is that really true?
Actually yes, says Dell. "We put you to work. I always need new employees, new dishwashers. That's how I started, really. Coming out of the womb, I lost my ticket. I've been here ever since."
Dell is joking (maybe?), but you will indeed have to pony up the cash if your ticket fails to materialize by the time you're ready to leave. But while many lose the ticket, it's rarely all that difficult to find. And Katz's will insist that you look.
"Look, there's only so many places the ticket can be, right?" Dell said. "It's in your pocket. It's on the table. Maybe you threw it in the garbage. We're gonna find it. I don't want to charge you the $50. It's more important that we find the ticket."
Dell clarifies that if it comes to a garbage-digging situation, a staff member will snap on some gloves and get to it. Either way, it'll turn up.
"It's very rare that we truly, truly lose a ticket. Usually when you can't find a ticket, it's because someone doesn't want to look for it," he said.
Famous people lose their tickets, too
"[Pro basketball Hall of Famer] Kareem Abdul-Jabbar lost his ticket once," Dell said. "But to be fair, he's really tall so there are a lot of places it could be on his body."
Instagram is probably to blame for the corned beef downfall
Fifteen years ago, Katz's corned beef was twice as popular as the pastrami. It's not as though corned beef has gotten any less tasty, so what's behind it's waning popularity? Dell chalks that all up to Instagram, of course.
"The way food looks plays more of a role in what people decide to order," he said. "And I think because of the rub on the outside, the smoking process, [the pastrami is] just sort of a more fun looking sandwich."
Select items have been added to the menu over time due to popular demand
After having pretty much the same menu since its start, Katz's added a Reuben to its menu 15 years ago, followed by a cheesesteak 10 years ago (a non-traditional move for a Jewish deli), and bread pudding about two years ago. "We're kind of afraid of change," Dell says. He'll add things to the menu only if "enough customers bug me about it." Why anyone desperately needed a cheesesteak from Katz's remains a mystery.
Yes, people do still recreate THAT scene
If you thought that by 2016 diners at Katz's would have stopped imitating Meg Ryan's fake orgasm noise then you really underestimate tourists and over-served college kids. Many customers will sit in the very seat from When Harry Met Sally (an overhead sign helpfully points it out) and attempt to recreate that important cinematic moment.
"It's always fun -- when it's done well," Dell said. "When it's done poorly it's just sort of... depressing."
But other movies (and TV shows) have been filmed there, too
In Donnie Brasco, Katz's was the location where Johnny Depp's character, an informant, would meet with an FBI agent. "They created booths here, which was totally weird," Dell said.
In fact, the deli's history as a film set dates all the way back to 1977, when it was used in the Frank Sinatra film Contract on Cherry Street. "The contract to kill the main character was made in our meat locker," Dell said. Comedian Jim Gaffigan also regularly set up shop there for filming of his show, The Jim Gaffigan Show.
That famous sign was a total accident
Former owner Harry Tarowsky decided the shop needed a new sign, and when the sign maker asked what he'd like it to say, Tarowsky told him: "Katz's. That's all." Meaning, just the word "Katz's." The sign maker took Tarowsky's instructions literally, inadvertently creating one of the eatery's most beloved slogans in the process.
Katz's is expanding to Brooklyn, but things are going to be a little bit different
Katz's will have a stand at the Brooklyn-based Dekalb Market, a massive food hall slated to open in Downtown Brooklyn in the spring. As Dell told the New York Times last year, the decision to expand was largely about access:
"The main thing is that it's hard to get down to the Lower East Side, and Brooklyn has been a strong part of our customer base," he said. "We can make it a little easier for our customers who have been coming for generations."
You won't be able to fake your orgasms there, though, since it will be a small outpost with take-away food only.
If Jake Dell had followed his original career path, Katz's might not still be here today
The Dells were longtime friends of Katz's original owners, and took over in 1988, on the store's 100th anniversary. Jake himself assumed responsibility of operations in 2009, when he was barely out of college. But staying in the family business wasn't always his plan.
Originally, Dell intended to become a doctor. "I was taking a gap year, and the goal was just to sort of help my father out with the business," he said. In fact, Dell was so far into the med school process that he'd already taken his MCATS and applied to programs. Then he had an epiphany.
"I said 'What the fuck am I thinking?' I can spend the next 10 years of my life doing something I love, or the next 10 years of my life in debt and miserable for an outcome that I'm not even sure I want, and maybe see a business that I love and grew up with disappear." It was a no-brainer, he said. Dell's father and uncle still have a hand in the business, but had Dell not taken over as owner, it's unclear what would have become of Katz's in the future. Luckily, Dell is certain he's made the right choice.
"I love what I do. Every day I'm excited to come here, and when I pull 18 hour days sometimes, it doesn't feel like work. So I think I made the right decision on that."
And if he's not eating deli food, Dell is probably eating...
Italian. "I'm a big, big veal Parm fan," he said. "I love old school red sauce joints, which you don't see as much in the city. I love a good pasta, of course, but a good Parm dish is just my favorite."
Would he ever consider opening an Italian restaurant in the city?
"Yeah," he said, rolling his eyes. "'Cause THAT'S what people want to see from me."
Sign up here for our daily NYC email and be the first to get all the food/drink/fun New York has to offer.