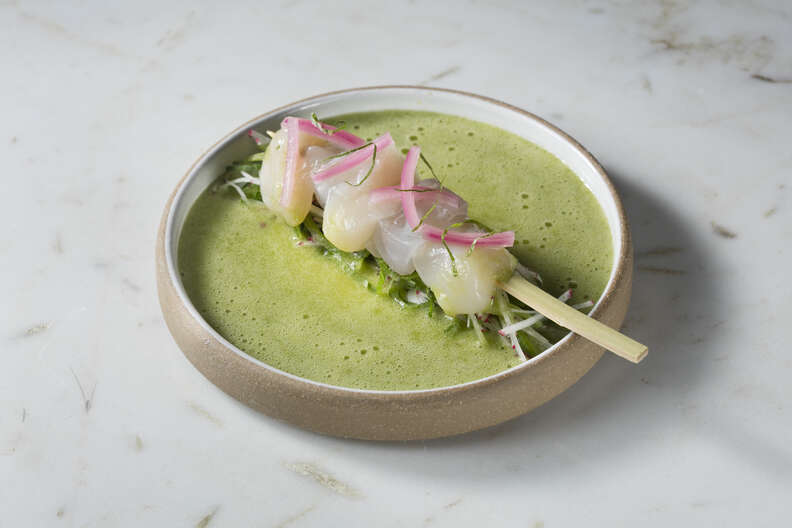 Kochi

| Melissa Hom
Kochi

| Melissa Hom
Well this is just great. Not only has Kochi given me a reason to hike all the way over to 10th Avenue, it's given me a reason to encourage everyone within the sound of my voice to do so, too. After stretches at luxury locales Per Se, Le Bernardin, and the beloved but recently shuttered Neta, chef Sungchul Shim's first solo spot offers a more accessible opportunity to sample his excellent takes on Korean royal court cuisine.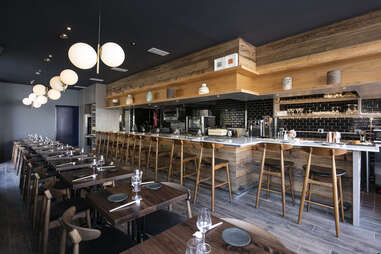 The 35-seat space (11 of which are at a bar facing the lively open kitchen) is attractive without competing with the place's raison d'être: the food. Its intimate dining room is a little woodsy, a little sleek, and inviting in spite of its scant square-footage. Similarly narrow spaces can take on a turn-and-burn quality, but Kochi is a comfortable, lovely place to linger. Good thing, too, since there are nine skewer courses on the set menu.
At $75, the tasting is comfortably below the dreaded $100 mark, but this is the rare spot where the supplements are actually worth what'll amount to an extra dollar sign on your check.
The first course, for example, is great on its own. The tarak-juk -- potato milk and pine nut soup with a corn fritter -- is a study in balance. The soup seems suspended between liquid and solid. Its smoothness cuts the fritter's coarse exterior and the sweetness of its plump interior kernels. The addition of Osetra caviar catapults the dish from great to extraordinary. The beautifully plated cascade of itty-bitty pearls add an extra dimension of bursting texture and deep saline flavor both well worth the $15 supplement.
A generous bit of uni added to the myungran bibimbap for $13 ups the ante, too. The sea urchin's inimitable, barely there texture amplifies the whole bowl of quail egg tempura, candied anchovy, toasted seaweed puree, and pollack roe brown soy butter rice.
Shim's other hits require no embellishment. A flavor-packed, dense brick of slow-cooked chicken covered with a rich, sippable broth just prior to consumption is delicious even in the absence of the optional black ($17) or white ($35) truffles. Grilled over smokeless Japanese charcoal, a mackerel's vibrant flavor soars. And the pork belly enlivened with pickled daikon is peak form. All on a stick.
Kochi's beverage program had yet to launch on a recent visit, but the staff was particularly adept at pacing brought-in bottles with each course. Beer, wine, Champagne, soju, sake, and cocktails should be available any day. Kochi is open for dinner Tuesday-Sunday, and reservations are available online.
The Kochi Cheat Sheet:
Est. November 5, 2019 | Hell's Kitchen
Nine rounds of Korean skewers fit for royals
The vibe: Relaxed elegance in an understated, intimate space that feels cozy rather than crowded. Yes, all that's a euphemism for small, so keep your party to a minimum and book Kochi for friend dates, date dates, and solo splurges at the bar.
The food: A $75, nine-course skewer menu inspired by Korean royal court cuisine. The tasting will change based on seasonal availability, but recent hits included bibimbap with uni, grilled mackerel, pork belly, and a corn croquette in potato milk soup with caviar.
Pro tip: Splurge on the caviar and uni supplements. Call ahead to confirm the current BYOB policy.
Sign up here for our daily NYC email and be the first to get all the food/drink/fun New York has to offer.