Down an unassuming passageway of the Canal Arcade, which connects Elizabeth Street and the Bowery in Chinatown, yakitori expert and chef Atsushi "ATS" Kono flexes his culinary skills at his debut Japanese tasting menu concept, KONO.

Well known for his time spent as executive chef at Yakitori Torishin in Hell's Kitchen, the eponymous restaurant is the product of nearly two decades working in restaurants across Japan and NYC, and marks the first solo venture for the chef.
"This has been a lifelong goal and truly feels like a dream come true," says chef Kono. "The restaurant is my namesake, and I have put my whole heart into it by drawing inspiration from traditional Japanese techniques and preparations."
Upon entering the 1,000-square-foot space, guests are greeted by a sleek interior which sports blonde wood elements and a horseshoe-shaped 14-seat chef's counter that surrounds a sunken grill. Purposely designed to encourage guest interaction, every seat is aligned to be eye-level to chef Kono as he prepares each course.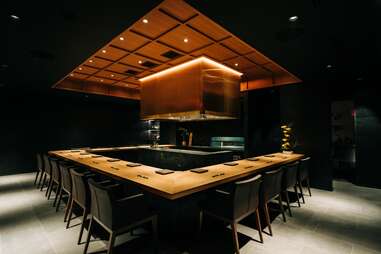 Here, chef Kono sets his food program apart from other yakitori restaurants with the use of binchotan hardwood charcoal on the grill, which "draws out pure flavors from the meat and creates a smoky finish," he states.
For $165 per person, the 16-course tasting menu consists of a variety of traditional Japanese skewered and grilled chicken dishes (all using organic Amish birds) that are divided into categories such as appetizers; soup; noodles; yakitori; and dessert.
Current offerings include Chicken Skin Chips (served with Japanese ginger and caviar) and Chicken Pate Monaka (topped with black truffle miso), which are followed by 10 to 11 grilled skewers of chicken meat, giblets, and soft bone. Finally, bowls of udon noodles and a dessert of Black Sugar Creme Brulee round out the meal.
For drinks, there's a lengthy selection of Japanese whisky, shochu, and sake to peruse along with specialty cocktails like the ATS (tequila, tare sauce, lime, agave) and Ero (vodka, sparkling wine, mandarin orange, vanilla).
KONO is open Monday–Saturday with two nightly seatings at 5:30 pm and 8:30 pm. Reservations can be made via Resy.