Walking into Jongro is like stepping through a portal into another time. Rather than a restaurant on 32nd St in the heart of Koreatown, Manhattan, the place feels like an authentic barbecue spot in 1985 Seoul. Exposed brick and wooden banquettes give way to vintage signs and movie posters in Hangul characters. Lively conversation bleeds into frenzied kitchen sounds -- the simmering of oil on a hot wok, a knife deftly working across a cutting board -- but what you're really hooked on is the smell, one of chilies, spices, and juicy, fresh meat, grilling tableside as you wait for a seat. The line is long but bearable, thanks to the amicable waitstaff who offer beverage menus as you wait. Opt for a Korean beer and get ready to experience some of the best Korean barbecue in New York City.
Recommended Video
The Mexican-Style Grasshopper Tacos You Have to Try When You're in South Beach
Korean BBQ has arguably never been more popular in NYC than it is right now, so what sets Jongro apart? For starters, it's the South Korean chain's commitment to freshness and tradition. Unlike most Korean joints in the city, Jongro (which opened its first US location in NYC in 2015) never uses frozen meat, relying instead on primal cuts delivered daily. Everything is butchered in-house, marinated to order, and cooked at your table, with laser thermometers and overhead smoke lamps to ensure unparalleled freshness. But there's one dish in particular that keeps people coming back: the beef platter. It's a decadent spread of brisket, skirt steak, ribeye, marinated chuck, and kalbi, or marinated short rib, fully equipped with traditional banchan offerings -- kimchi, sliced jalapeños, clay pot-cooked egg, and more.
On this week's edition of The Explorers, we sent Thrillist's own Dave Infante over to Jongro to see what the fuss is all about. The verdict? Believe the hype -- and check out the video to see for yourself.
Sign up here for our daily NYC email and be the first to get all the food/drink/fun New York has to offer.
Previous Venue
Next Venue
Venue Description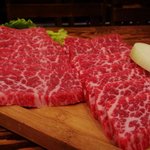 1. Jongro BBQ
22 W 32nd St Fl 2, New York, NY 10001
A regular stop in the late-night K-Towner's Saturday night, Jongro is a not-so-secret second floor Korean barbecue restaurant. Due to the long lines and young, soju-thirsty crowds more for eating and imbibing pre- and post-night-out with friends than it is for formally sitting down with the family. Diners can cook their own cuts of raw, thinly sliced beef on a barbecue disc right at their table. Brisket, Korean marinated short ribs, and skirt steak are the centerpiece prepared foods here, but orders of spicy rice cakes, kimchi stew, and thick, fried seafood pancakes can also be seen at almost every other table. The high-capacity space makes it the ideal group destination, so roll in with your six favorite friends, and an appetite for soju.