New Yorkers need as much Miami in their lives as they can get after this winter, so when a Magic City restaurant opens here, it's cause for celebration. And with the debut of its first NYC location in Downtown Manhattan this week, KYU (pronounced "cue")—a sexy hotspot known for its Asian-inspired plates, celebrity clientele, and wood-fired yakiniku grilling—the new eatery offers New Yorkers a bit of much-needed flash and excitement.
First opened in 2016 by founders Alan Omsky and Jordan Sayfie in the Wynwood neighborhood of Miami, the popular Asian-influenced eatery became a much sought-after destination known for its lively nighttime ambiance, industrial-chic interior design, and Japanese-inspired wood-fired dishes. Four years later in 2020, the team behind the James Beard-recognized spot then opened a second location in Mexico City to much of the same praise.
Now, the swanky eatery has planted itself in NoHo and operates out of the former space of chef Bobby Flay's Mediterranean-inspired Gato (closed in March 2021). "I am excited and proud to bring the soul of KYU's unique cuisine and hospitality to the heart of NYC," says Omsky. "It's a dream come true for our fabulous team." In partnership with British hospitality company, Reuben Brothers, the 5,700-square-foot venture includes an open kitchen, 6-seat bar, blue velvet-covered lounge area, and spacious dining room.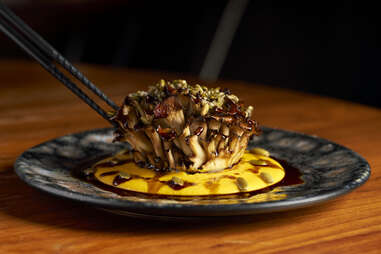 Led by Per Se and Eleven Madison Park alum, chef Chris Arellanes, the kitchen continues to focus on its signature style of Japanese yakiniku grilling. Menu highlights include the Wagyu Brisket smoked for seven hours and coated in black shichimi pepper; wood-fired Bass with fermented brussels sprouts and dashi; and Maitake Mushroom with smoked pumpkin miso and pepitas. On the dessert program, the decadent three-layer Mom's Coconut Cake with a side of coconut ice cream is a crowd favorite. Alternatively, opt for the multi-course chef's tasting menu experience at $190 per person.
The beverage program includes cocktail favorites from the Miami flagship like the Wynwood Mule with house-smoked pineapple and the Spicy Shiso Sour made with fresh-pressed cucumber juice and Thai chili tincture, in addition to beer, wine, and sake.
After this NYC opening, KYU expects to continue their expansion with plans to open locations across the U.S. and Europe.
KYU is now open Monday–Sunday from 4 pm–11 pm at 324 Lafayette Street in NoHo. Reservations can be made online.