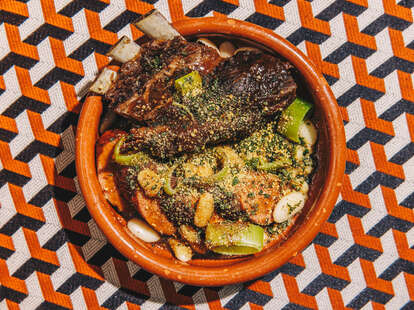 Photo by Cole Saladino for Thrillist
Eric Bolyard does not relegate braised meats to just the cold, winter months. "I think you can bring a lot of vibrancy and lightness to braised dishes based on how you garnish them, what produce you're using to elevate it, and what vinegars and acids you can dress it with," says the head chef of La Compagnie des Vins Surnaturels, a sleek, French-inspired wine bar nestled in Lower Manhattan. It's why Bolyard loves to serve a duck and lamb cassoulet when springtime rolls around.
The classic, hearty French dish hails from Toulouse in the South of France. According to award-winning Chef J. Kenji Lopez-Alt, it was a dish made by peasants using whatever meat they could get their hands on. So, you'll see cassoulet recipes made with ingredients like Tarbais beans (though Great Northern and cannellini beans work fine, too) and a variety of meats, including pork shoulder, sausages, lamb, duck, and mutton. For Easter, Bolyard makes it with duck sausage and lamb rack to streamline the baking time, and tops it with a mint breadcrumb crust. "I'm just creating a very typical French dish at this moment of the year, and bringing it back to some more familiar flavors of Easter with the breadcrumbs and roasted lamb," Bolyard says. "I think it eats quite well."
The breadcrumb topping is an essential part of the cassoulet. It's spread on top of the mixture of beans and meats in a thick layer, forming a nice crust that eventually gets pushed down into the cassoulet during the baking process to create a thicker texture. Pushing the crust into the cassoulet helps prevent the crust from drying out, too, since it spends such a long time in the oven. Cassoulets are typically prepared a day in advance and reheated, so additional breadcrumbs are added before reheating for an extra crunch.
"This breadcrumb idea on top of the cassoulet as it bakes is a pretty integral part of the dish and how it's meant to be consumed, and the tradition of it is a key component," he says. The use of mint in Bolyard's version makes the breadcrumbs pop and it's as simple as whirring the breadcrumbs with mint in a food processor to combine.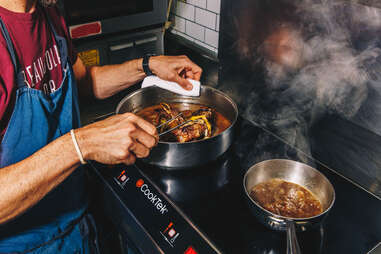 What's a great meal with loved ones without a proper drink to pair it with? If you and your crew imbibe, Bolyard suggests a Guigal Crozes-Hermitage or a Rioja like Lopez De Heredia. Or, for a zero-proof option, try Kally's berry fennel wine substitute with earthy, juicy notes.
Cassoulets are excellent dishes to serve friends and family for Easter because of how ample the servings are—and they look visually stunning, too (who wouldn't want to dig in?). But there's something you need to know before making one: They're time-consuming as heck with a ton of components. You have to soak your beans, prepare your proteins, and assemble them; it's best to do all of this a day ahead. "Then, if you have a big group of people coming over for Easter, you just rock it in the oven for however long it needs depending on the size," Bolyard says. "All the flavors meld and you get this crumb crust. It's such a comforting and convivial way of sharing that meal."

Easter traditions may have evolved over the years, but a few activities remain relatively unchanged. From snacking on scrumptious pastries to dressing up colorful Easter eggs, Target is your one-stop shop for all these springtime staples. With same-day delivery and curbside order pickup available, Target makes it easy to get what you need—when you need it.
Lamb and Duck Cassoulet with Mint Breadcrumbs Recipe
Yield: 4 portions
Braised Cassoulet Beans
Ingredients:
• 8 ounces Tarbais beans or gigante beans, soaked for 4 hours
• 12 ounces dry red wine, such as cabernet sauvignon or shiraz
• 32 ounces chicken stock
• 1 (8-ounce) slab bacon
• 1 Spanish onion, peeled and halved
• 8 garlic cloves, peeled
• 6 fresh bay leaves
• 4 ounces extra-virgin olive oil
• Sea salt to taste
Directions:
1. In a dutch oven or other deep, heavy-bottomed pot, add the slab bacon and render some of the fat for 2-3 minutes.
2. Add the onion, garlic cloves, bay leaves, and olive oil, and saute for 3-5 minutes to bring out the sweetness.
3. Add the red wine to deglaze and cook for 2 minutes to allow the alcohol to evaporate.
4. Pour enough of the chicken stock over the beans to cover them by double.
5. Bring to a light simmer on the stove.
6. Cover and place in a preheated, 350-degree oven. Check after 45 minutes to gently stir and taste the beans. If most liquid is absorbed, add a bit more water. Season with sea salt. Don't over-season as the cooking liquid will reduce at the end, which will concentrate the seasoning.
7. Bake for another 30 minutes and check the beans again for doneness. Use your judgment, as they should be lightly toothsome and creamy.
8. Let the beans come to room temperature.
9. Gently strain the liquid from the beans and reduce in a medium saucepot by half. The beans can be made up to 2 days in advance.
Lamb Rack
Ingredients:
• 2 racks of lamb
• 2 tablespoons extra-virgin olive oil
• Sea salt to taste
Directions:
1. Rub each rack of lamb with 1 tablespoon extra-virgin olive oil and season liberally with sea salt.
2. Set aside to allow the seasoning to absorb while preparing the other components of the dish.
Duck Sausage
Ingredients:
• 4 links duck sausage
• 1 tablespoon extra-virgin olive oil
Directions:
1. Bring a saute pan up to medium heat.
2. Coat with olive oil and gently place the duck sausages into the pan.
3. Sear on both sides until golden brown. Remove onto paper towels to drain and set aside.
Leeks
Ingredients:
• 1 large leek or 2 medium leeks
• Sea salt or kosher salt to taste
Directions:
1. Cut off the darkest green tops and reserve for stock or as aromatics for braising the beans.
2. Slice the leeks across into roughly ¾-inch rounds and wash thoroughly in a bowl of cold water, shaking out any dirt.
3. In a small pot of salted boiling water, blanch the leeks for 2-3 minutes.
4. Transfer the leeks to a bowl of ice water to immediately stop the cooking.
5. Drain the leeks and set aside.
Mint Breadcrumbs
Ingredients:
• 6 ounces dried breadcrumbs, lightly toasted
• 2 ounces fresh mint
Directions:
1. Pick the mint leaves.
2. In a food processor, add the breadcrumbs and fresh mint leaves and pulse until the mint is broken down into a fine texture and incorporated into the breadcrumbs throughout.
Assembly & Bake
Directions:
1. Preheat oven to 425 degrees.
2. In a large baking dish, cover the bottom with the cooked beans and enough of the reduced bean cooking liquid to cover just the bottom of the baking dish.
3. Arrange the duck sausage on top of the beans.
4. Slice each rack of lamb in half and lean each half-rack of lamb against one duck sausage.
5. Scatter the blanched leek rounds all over.
6. Add additional beans to fill in any spaces.
7. Sprinkle the mint breadcrumbs in a thin, even layer over the top of the entirety of the beans, sausage, and lamb.
8. Cook for 12-15 minutes, or until a thermometer reads 125-130 degrees at the thickest part of the lamb. The lamb will continue to cook after it's taken out of the oven.
9. Rest for 5 minutes and communally serve the entire dish.
Lia Picard is an Atlanta-based journalist writing about food, travel, and a variety of other topics. Her work appears in the New York Times, the Washington Post, Wine Enthusiast, and CNN Travel.