Philadelphia Chef Michael Solomonov Brings His Hit Restaurant Laser Wolf to an NYC Rooftop
The new Brooklyn location of the skewer-focused Israeli concept focused on wood-fired fare is coming to Williamsburg's Hoxton hotel.
Published on 4/29/2022 at 3:03 PM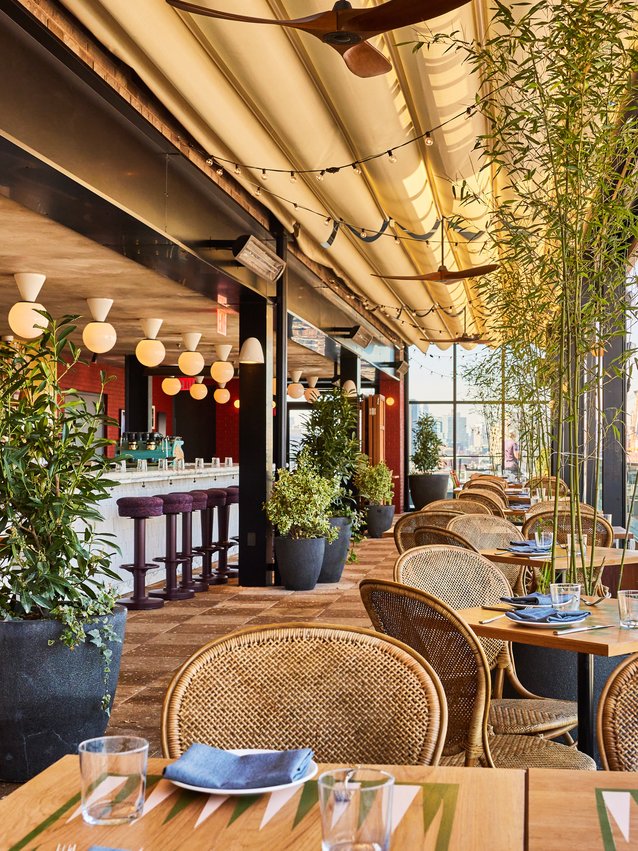 Laser Wolf | Photo by Michael Persico
In early 2020, famed Philadelphia chef and restaurateur Michael Solomonov—of Federal Donuts, Dizengoff, and more—unveiled a highly anticipated sequel to his James Beard Award winning hit restaurant, Zahav. Dubbed Laser Wolf, the spot is popular for its roaring charcoal grill and was practically built for large group dinners. And now, with more than two years of epic meals and accolades from across the country under its belt, what's regarded as one of Philly's best restaurants is touching down in NYC.
When Laser Wolf in Brooklyn opens atop the Hoxton hotel in Williamsburg on May 1, it will be Solomonov and his CookNSolo Group co-owner Steve Cook's first sit-down spot in NYC (they briefly brought Dizengoff to Chelsea Market but it closed in 2018), and the duo is partnering with Boka Restaurant Group to bring it to life.
Michael Mayo, Chef de Cuisine; Michael Solomonov, Chef; Andrew Henshaw, Executive Chef | Photo by Michael Persico
Laser Wolf was originally inspired by laid-back skewer houses in Israel, where sharing dishes among friends and family and watching skewers char over the grill was commonplace.
"I'd go visit Israel with my family and when we would get off the plane, we'd eat at a casual place that's much like Laser Wolf with skewers, salads, and fresh bread," says Solomonov. "I thought, Well this is what I want to eat, so why aren't we doing this?"
And guests can expect much of the same style at the second iteration of the restaurant, where Andrew Henshaw, who served as Solomonov's chef de cuisine at Zahav for five years, is helming the kitchen.
Salatim | Photo by Michael Persico
Salatim | Photo by Michael Persico
In a traditional shipudiya (or skewer house) style, guests only have one decision to make when sitting down for dinner: choosing a vegetable, meat, or fish entree from options like Shawarma-Spiced Cauliflower, Lamb and Beef Koobideh, and a Whole Branzino with Ginger and Tomato for two.
After selecting a main course, the restaurant will cover the table with traditional Israeli side dishes called salatim like Pita, Babaganoush, Gigante Beans with olives, Fennel with orange, and several others—with the option to tack on a la carte sides including Date-Harissa Wings with Tehina Ranch; and Tuna Tartare with Pickled Ginger and Scallion Schug. Dessert is a Brown Sugar Soft Serve topped with pistachios, cherries, and "crispies"—and it also comes included with dinner.
"The style of dining is fun because it's very unpretentious, relaxed, and really robust in spirit and flavor," says Solomonov.
Get Shishlik'd (center), Salty Lion (front right) | Photo by Michael Persico
On the beverage side, drinks are focused on bright, citrusy cocktails that best pair with the charcoal-kissed dishes that make up the rest of the menu. Options include the Salty Lion (gin, arak, grapefruit, mint, salt) and the Get Shishlik'd, which comes frozen with vodka, Aperol, guava, and lime. The restaurant also offers non-alcoholic cocktails, local beer, wines by the glass and bottle, and a selection of arak, a Middle Eastern spirit made from grapes and anise seed.
The open-air space seats about 130 between rattan furniture in the dining area and stools at the sprawling bar. During the warmer months, expect lush greenery, string lights, and unobstructed views of the city skyline, but the restaurant space also has a retractable rooftop so it will be a year-round operation no matter what the weather brings.
Laser Wolf debuts Sunday, May 1. The restaurant is open Sunday through Wednesday from 5 pm to 11 pm, and Thursday through Saturday from 5 pm to 1 am. Reservations are available via Resy.
Liz Provencher is an editor at Thrillist. You can follow her on Twitter or see what she eats on Instagram.