The 10 Most Essential Restaurants Near Lincoln Center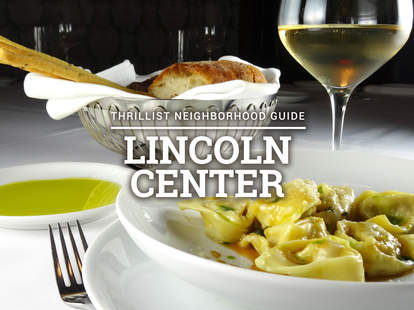 Courtesy of The Leopard at des Artistes (edited)
New York Lincoln Center's more than just a place to bring visiting parents or annoy girlfriends with ill-timed yawns during Madama Butterfly -- it's also a place surrounded by quality restaurants deserving of your hard-earned ducats. We've outlined 10 must-hit eateries within walking distance of this upper-crusty cultural bastion, from a BYOB Haitian place to a historic Italian date spot.
Courtesy of PJ Clarke's
<em>44 W 63rd St</em><br />
<br />
While it might lack the historic charm of the original 55th St&nbsp;location, the P.J. Clarke's directly opposite Dante Park still serves up the best burger-and-beer combination within walking distance of Lincoln Center. Post up at the bar with a pint and a Cadillac burger, or share a trio of sliders with a fellow meat-lover -- the choice is yours!
<em>503 W 57th St </em><br />
<br />
Serving classic NY-style slices&nbsp;on grease-absorbing paper plates, Casabianca's your go-to for pizza and pizza-related foodstuffs (stromboli,&nbsp;garlic knots, etc.).&nbsp;There's also a grilled chicken salad here that'll blow your hair back,&nbsp;inasmuch as a person's hair can be blown back by a&nbsp;grilled chicken salad. Continue Reading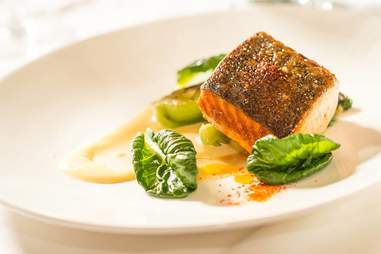 Courtesy of Atlantic Grill
<em>49 W 64th St </em><br />
<br />
This is actually a solid play for surf OR turf (try the grilled filet or the organic chicken), but unless you're a diehard meatist, your move should be one of the fishier dishies. Opt for the shrimp dumplings, pan-roasted salmon, or seared bigeye tuna -- or, even better, go rogue with the six-piece sushi sampler.
<em>142 W 65th St </em><br />
<br />
With its glass-walled dining room and open-kitchen format, this Lincoln-Center-adjacent restaurant lets you observe the chefs prepare your meal while passersby watch you observing them. It's basically <em>Inception</em>, but with high-end pasta dishes and crispy pork cutlets instead of dream heists and <a href="http://inception.davepedu.com/">BRAAAAM</a&gt;.
Courtesy of Rosa Mexicano
<em>61 Columbus Ave </em><br />
<br />
The tableside guac preparation, pomegranate margaritas, chile relleno, and mahi-mahi tacos are all excellent reasons to hit up the UWS location of this modern Mexican chain, but its expansive tequila selection (75+ bottles!) might just be the ultimate deal-sealer. Just know that whatever you end up getting, you'll be paying UWS prices for it.
<em>145 W 72nd St</em><br />
<br />
Located right off the 1 train stop at 72nd St, La Dinastia combines Asian and Latin cuisine at a price point that's tailor-made for the "I just blew my paycheck on these Nutcracker tickets" set. Menu highlights include the pot roast, the beef stew, the pork dumplings, and the fried chicken -- and of course, the portions are massive as well.
Courtesy of Parm
<em>235 Columbus Ave </em><br />
<br />
The UWS outpost of this beloved Italian shop serves up the same hearty semolina sammies as its Downtown forebear, from chicken francese to the eponymous Parm itself, served in roll, hero, or platter form. If you're up for something new, there's&nbsp;also the messy-yet-delicious Randy Levine sandwich:&nbsp;char siu pork, half-sour pickles, and spicy mustard on a garlic bread roll.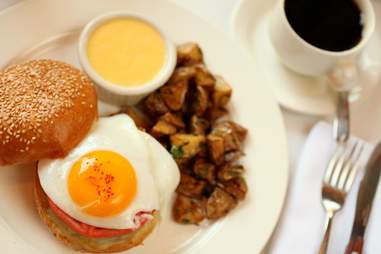 Courtesy of Cafe Luxembourg
<em>200 W 70th St </em><br />
<br />
This UWS spot gets packed during prime-time brunch hours, so reservations are a must. Once you're actually in your seat, though, the maddening crowd is swiftly drowned out by lobster rolls, ricotta pancakes, and the kind of French onion soup you'd arm-wrestle your own mother for. Arm-wrestling your mom at the table isn't the best look, though, so maybe just order two bowls of soup.
<em>858 10th Ave </em><br />
If you've never had Haitian food, this is the place to amend that glaring error: the fried goat, griot, and red snapper are all excellent, and there's a rotating menu with special items for each day of the week. The milkshakes are on point as well, but the fact that you can bring your booze of choice to enjoy with your meal is what pushes this place over the top.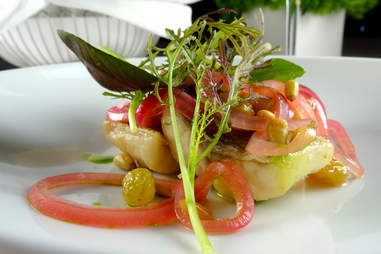 Courtesy of The Leopard at des Artistes
<em>1 W 67th St </em><br />
<br />
This classic New York establishment is built on the bones of the iconic Café des Artistes, and that history is a big part of why you're going here: the walls feature the original restaurant's famous murals, which set the tone and serve as great conversation starters. Of course, there's more to this place than reliving your favorite <a href="https://www.youtube.com/watch?v=V91Y7MRw7eo">trenchant insights</a> from <em>My Dinner with Andre</em>:&nbsp;the Southern Italian fare (like&nbsp;homemade pappardelle and three-meat tortellini) is some of the best in the city.
Sign up here for our daily Thrillist email, and get your fix of the best in food/drink/fun.
Gianni Jaccoma is an editor for Thrillist, and he loves a good bon mot or two. Follow his weird
Simpsons
references: @gjaccoma.