Sustainability Advocate LinYee Yuan's Ideal Day Off Celebrates the Community of Crown Heights
In Brooklyn, the MOLD magazine founder takes a break from her food programs to enjoy parks, heritage centers, and Caribbean food.
Published on 10/6/2022 at 12:00 PM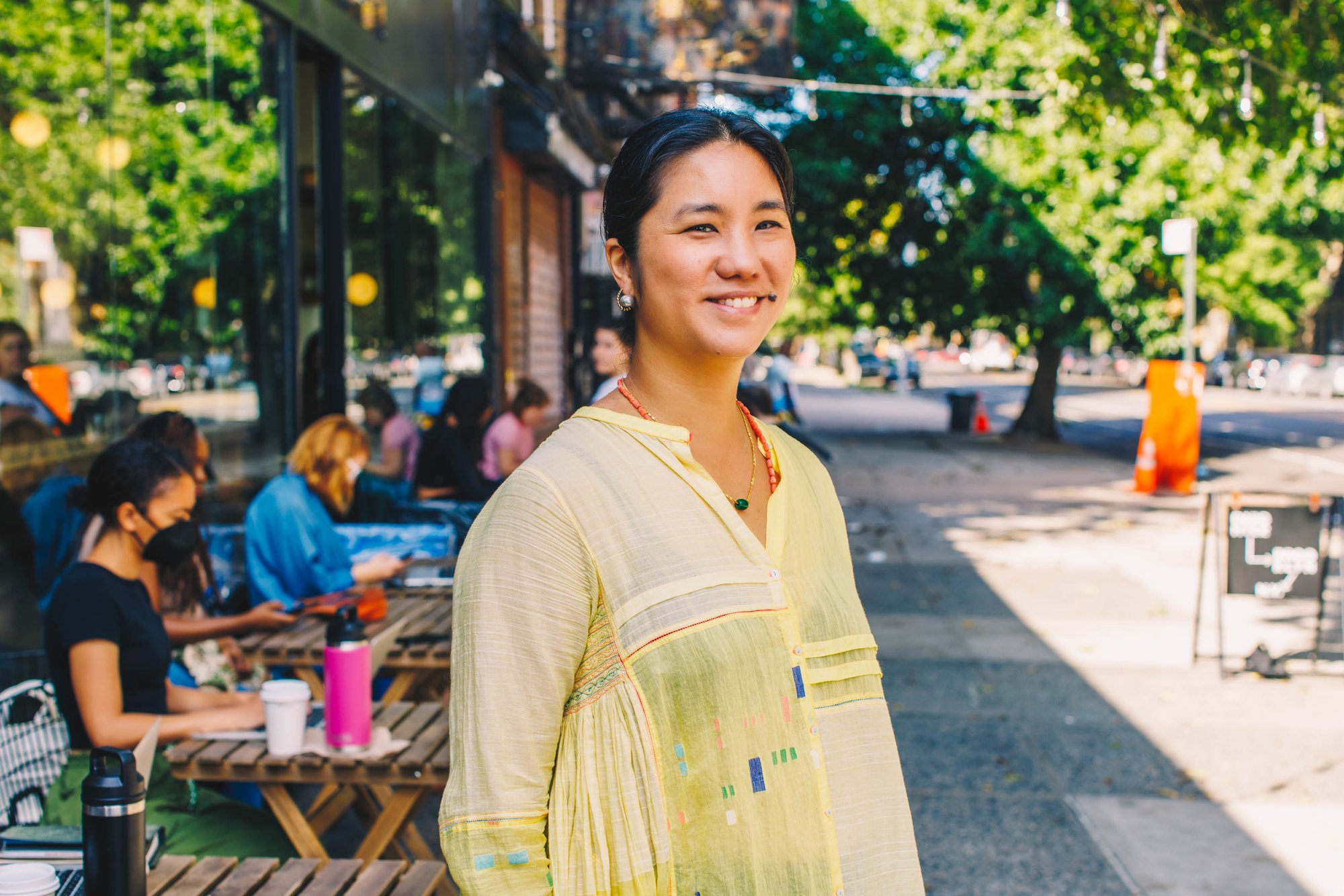 LinYee Yuan | Photo by Cole Saladino for Thrillist
LinYee Yuan is the founder and editor of MOLD, a magazine that explores how designers from various disciplines can offer solutions for the coming food crisis. Following the magazine's six-issue print run, Yuan continued her mission with Field Meridians, an on-the-ground, community-building program that works to lay the foundations for food sovereignty in the heart of Brooklyn. The first iteration, Solstice Kitchen, launched this summer in Brower Park, with a mobile kitchen that included everything from a solar oven to a rain catchment system. In Crown Heights, Yuan spends her off-hours visiting community gardens, exploring the Caribbean culinary scene, and chatting with her neighbors about the future of food.
It's easy to write about why food sovereignty is important. It's easy to write about other people's projects. The hard work is actually being on the ground and doing that work. The more and more I thought about it—especially in the context of coming through the pandemic and witnessing the ways my community knit together—I realized what brought me the greatest amount of joy and sense of purpose was engaging with my neighbors and making the place we live better for everybody. Field Meridians is us trying to create an opportunity to talk to our neighbors about what the future of food should look like in Crown Heights specifically. And we got incredible answers. Everything from having gardens on the roofs of our buildings to being able to eat from the trees in the park.
Crown Heights is a living, thriving community in the heart of Brooklyn. My specific part, which is called Crown Heights North, is a landmarked historic district. It's absolutely beautiful. And that work is thanks to a group of Black women elders who have been living in this neighborhood for decades and came together over 20 years ago to form an organization to landmark our neighborhood. It's one of the very few landmarked neighborhoods in New York that are predominantly Black and Brown people.
Daughter | Photo by Cole Saladino for Thrillist
"I realized what brought me the greatest amount of joy and sense of purpose was engaging with my neighbors and making the place we live better for everybody."
We're really lucky because we're a largely Caribbean neighborhood on one side of the community, and the Caribbean communities really prioritize fresh produce, so there are a number of produce storefronts and a farmers market that serves them. But there should always be more. That's what the Solstice Kitchen was intended for.
I have two kids, so my mornings start very early. Once we're ready to get out of the house, I start my morning at Daughter, my local coffee shop. They have really great coffee from SEY, which is from the Bushwick-Williamsburg area, and delicious pastries that they bake in-house, like this quiche, which is something I crave on a regular basis, and amazing biscuits. It's run by three friends, and even though it launched only a year ago, I feel like they've already played such a huge role in hosting pop-ups, hosting young food creators, and creating physical space for people to sell their magazines (they sell copies of MOLD there). I really appreciate their sense of generosity. They donate a percentage of their profits to a community-based organization of their choice, very much aligning with my values of what a neighborhood institution should look and feel like.
Vegetable Roti at Gee's Caribbean | Photo by Cole Saladino for Thrillist
"If you want to know who lives in Crown Heights, go to Brower Park."
Once I get my coffee and my pastry, I walk over to Brower Park, which is just a couple of blocks away, and take in the morning characters. The best time to people-watch is 9 am in any New York City park, and Brower Park is the living room of Crown Heights. There are people with dogs, people with babies, just folks reading books and having their morning coffee right before they go to work. There are people on the basketball court, people roller skating, working out. There's always someone playing music in the mornings. Whereas Prospect Park is a leisurely park, Brower is a working one. It's where I take my kids every day to go to the playground. It's where the Brooklyn Children's Museum is. The Friends of Brower Park, which is a community organization of neighbors that support programming in the park, do film screenings in the summer. There's a butterfly garden and even a little skate park, where my three-year-old son has, very early on, become obsessed with skateboarding.
When we did Solstice Kitchen there, my favorite moments were when parents and their children walked by, because children have no filter—they're immediately curious. They would be like, "What are you guys doing?" And we'd say "Oh, we're cooking. Do you want to help us?" So children of all ages got to pick herbs, bundle herbs, make tortillas, make tamales, cook on the solar oven. Having that experience imprinted in their brain—that there are other ways of cooking and preparing food together—is very powerful to me.
At the side on Kingston, there's an area called Shirley Chisholm Circle, which pays homage to Shirley Chisholm, who was a representative of our district here in Crown Heights and was the first Black woman candidate to run for president for a major American party. She's just an incredible civic leader and visionary, and I love that we can claim her here in Crown Heights.
After finishing my pastry at the park, I'd take my kids to Weeksville Heritage Center, which is a little bit east of Crown Heights but still within our neighborhood. It's an incredible museum and the site of one of the largest free Black communities in America. There's a collection of historic homes that you can visit. During Juneteenth, they had a Black food festival happening at the park. They have yoga and a farmers market. I think it's important to remember that this community was always focused on social justice.
At that point, we'd probably work up an appetite, so we'd go to Gee's Caribbean on Nostrand between St. Johns and Sterling Place. Gee's is an iconic place. I think they have the best roti in our neighborhood. Some people might think it's a new place, but it's, in fact, an old place that used to be a restaurant under a different name. I like their vegetable roti, but I like it with callaloo and pumpkin, and then I get the roti on the side because it's always a very generous serving. Their aloo pie is also delicious. And the secret of Gee's is their cake. When I was pregnant with my first child, at least once a week, I would waddle over to their original location and get a slice of cake. When Anthony Bourdain did his New York City episode, he came to Crown Heights and actually ate at their original location, so it's Bourdain-approved.
The greenest block in Brooklyn | Photo by Cole Saladino for Thrillist
"It feels magical to walk down that street and know that it's so loved."
After we've filled up, I think we'd be ready for a little bit of a walk, so I'd head over to the 1100 Bergen Street Community Garden. It was founded by a woman who actually lives on Bergen Street, named Hazel, who has been tending this incredible space for over 40 years. It's been part of the Brooklyn Queens Land Trust for decades now. You can sign up for a plot in the garden, or you can just come in to volunteer and do cleanup. For anybody who's ever tended a garden, you know that there's always something to do, from composting to rain harvesting. You always meet incredible neighbors there, and it's right next door to a little bar called King Tai, which has really great cocktails.
After that, I would maybe stop by Trinidad Golden Place, a kind of iconic restaurant for Chinese-Trinidadian food, and get a currant roll as a little snack. They're usually only served after 3 pm, so you have to get in there at a certain window. Sometimes, in the mornings, I'll get a double there. Their breads are delicious. And then in the winter, I like to get their chicken stew. If you're lucky, on certain days, the corn soup man is posted up outside, serving classic Trinidadian-style corn soup.
Then I would go to Lincoln Place between Nostrand and New York Avenue, which was recently named the greenest block in Brooklyn. They've won before, and they won again this year—I'm really proud of my neighbors. It's an annual tradition for the Brooklyn Botanic Garden to bestow this honor on a block in Brooklyn. It requires so much coordination, so much tending, and has really been spearheaded by two women, Perri Edwards and Althea Joseph, who run PLANT (Preserving Lincoln's Abundant Natural Treasures) with a mission to get our neighbors involved with greening our community. People have put up little works of art and they've upcycled different things to become planters. It feels magical to walk down that street and know that it's so loved.
And then, after all this walking, all this eating, I would go to Urban Asanas, which is an incredible yoga studio and wellness space here in Crown Heights. And it's owned by my neighbor, a woman named Jyll, who is kind of a yoga goddess. She has this great end-of-day tradition of doing Urban Power, which is a hatha vinyasa yoga class. She plays great music, it's a mixed-level class, but if you've done yoga a lot, you're going to feel really invigorated. She really pushes you to be with your body.
That's my day!
Places to Eat & Drink
1090 St Johns Place, Brooklyn
770 Nostrand Avenue, Brooklyn
1095 Bergen Street, Brooklyn
788 Nostrand Avenue, Brooklyn
Things to See & Do
St. Mark's Avenue, Park Place between Brooklyn Avenue & Kingston Avenue, Brooklyn
158 Buffalo Avenue, Brooklyn
1100 Bergen Street Community Garden
1107 Bergen Street, Brooklyn
Lincoln Place between New York & Nostrand Avenues, Brooklyn