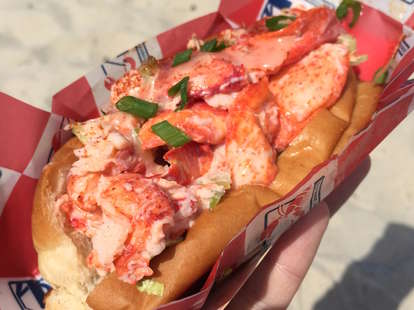 Just days after the return of Madison Square Easts in the Flatiron District, another outdoor food market by UrbanSpace is bringing a bunch of NYC's best food stands to Times Square on May 4th.
Located at 41st St and Broadway -- which is also steps away from Bryant Park -- this newest entry in the increasingly busy outdoor street food fest lineup features over two dozens vendors serving up things like paella, wood-fired pizza, lobster rolls, empanadas, and lots more. Along with returning favorites like Momofuku Milk Bar and Red Hook Lobster Pound, visitors can expect to see some new offerings like fancy slushies from Kelvin Slush Co. and modern American fare from food truck concept Yankee Doodle Dandy's, according to a report by DNAinfo. The market is open from May 4th to June 14th.
UrbanSpace also plans to open a stunning new food hall, sometime this summer.
Follow us on Facebook for a steady stream of daily NYC stories, and be the first to get all the food/drink/fun/news New York has to offer.
Tony Merevick is Cities News Editor at Thrillist and officially needs to hit up all these food markets this summer. Send news tips to tony@thrillist.com and follow him on Twitter @tonymerevick.