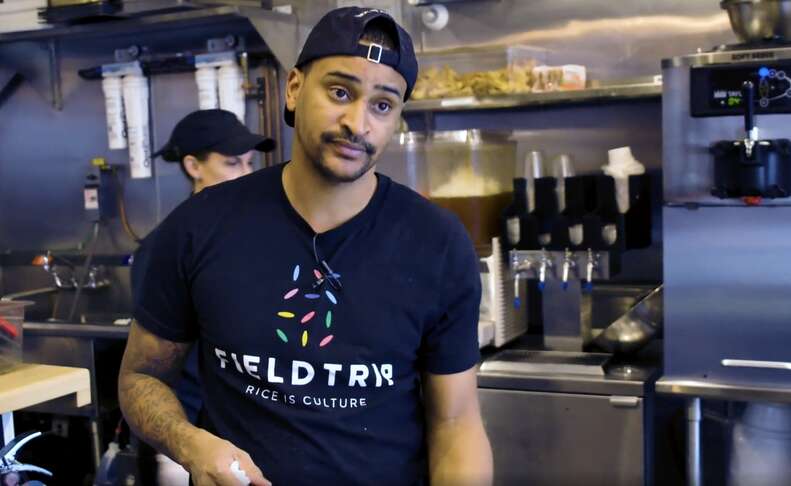 Chef JJ Johnson of Fieldtrip
Chef JJ Johnson of Fieldtrip
James Beard Award-winning chef JJ Johnson made his culinary mark at upscale restaurants like The Cecil, Minton's, and Henry. Last summer, he pivoted to open Harlem's fast-casual Fieldtrip with a more humble goal in mind: to serve the local community. Built on the idea that rice is a global connector, Fieldtrip serves affordable, ethically sourced rice bowls topped with curries, veggies, and proteins like barbecue brisket and market fish.
But in the last week or so, everything changed. As the spread of COVID-19 intensified in New York City, Gov. Cuomo mandated that all restaurants must convert to takeout and delivery only, forcing Johnson to quickly make a switch. With a skeleton staff, Johnson is now taking on many jobs he previously outsourced himself -- from deliveries to basic prep work. He's dealing with the potential interruption of his supply chain, and a sharp decrease in business overall. Taking it day by day, he hopes to keep it all together financially.
We spoke with Johnson about the importance of community support in keeping his restaurant alive in the age of COVID-19 in the video and the interview below.
What's it been like running a restaurant during this time?
We've been calling it back to the basics -- you know, head down, focusing on making sure the doors can open up hour to hour, making sure that we can function, figuring out how to retain as much staff. There are two big needs right now. The staff need their jobs -- they're paying rent or paying for college with the check that they're getting from Fieldtrip. The second need is feeding a community of people who share rooms or don't have big fridges.
How has your day-to-day changed?
I either open or close the restaurant myself. I'm the prep cook, or the packer, or the cashier, or the dishwasher at the end of the night. Because I can't afford to have all my staff working, and I can't afford to close the doors, I have to act out as many roles as possible. So, basically, I'm free labor to the business.
Is there a bright side to taking over all aspects of the business?
I was always pretty involved in the business, wearing different hats everyday, but now I'm really embedded behind the line, cooking every day.
What would you say is the biggest challenge you're facing at the moment?
There's so much information out there and you don't know what's true or false. Things are changing by the hour. People are scared, and that affects your business. Before, as a quick-service restaurant, we could kind of get into a flow, we could project our numbers, we could know who's coming in based on all the past Mondays or all the past Tuesdays.
And now it's just basically like, OK, let's see how we do at 5pm, let's see how we do at 6pm. We're not really thinking about tomorrow. I'm like, let's see how much food we have in the house, can we even afford to buy more food right now? Can we afford to bring in a prep person to do the prep job, or do I have enough time to do the prep work?
There's so many moving parts as a small business owner, and it's just been about trying to stay alive day by day.
How long do you think the take-out/delivery-only model will be sustainable?
I'm not sure. Twenty percent of our business was delivery, 30% was pick-up or carry-out, and the other 50% was people coming in to sit down for either lunch or a quick dinner. I'm paying the same amount of rent, gas and electric bills, so the only thing I can really control is labor and food.
Plus, delivery companies are still taking 30-32%. You can do as much in-house delivery as you want, but that means you have to add a delivery person, so your labor cost goes up. My staff rotates and we do it ourselves, but only for really close deliveries. But if 20% of my business is delivery, that means I'd have to grow my delivery business by 300% to survive.
This will be my first week doing this -- we'll look at it, and then we'll see how the numbers are.
What message would you like to share with consumers who are maybe hesitant to order take-out?
I don't want to say every restaurant, but for the most part, restaurants are clean. You see that big A letter grade on the window from the health department because we have high standards to begin with.
Now, with this pandemic, we are enforcing way higher standards than we've ever had before. And I mean things as little as sanitation wipes to wipe off a counter. I went through two boxes of gloves when I worked the last shift. I'm always nagging my staff: "Do you have your gloves on? Put your gloves on.Change your gloves."
Even my staff is telling people to make sure they wash their hands. We used to say "See you next trip" when you leave. Now we say: "See you next trip and make sure you wash your hands when you get home!" Now we have to remind everyone, if you don't wash your hands, it affects us. If we don't wash your hands, it affects you. Now it's like, let's work together.
What do consumers need to know about local restaurants right now?
Your local restaurant, wherever it is in the country, truly needs you to order food from them. And if you can do it twice a week, that will help them to get by. Order your favorite thing for yourself or order food for the house. We even have kids meals. Some people have kids and they can't cook all three meals for them. We try to make things really accessible for everybody regardless of income.
What role does the community play in helping your restaurant push through?
Community restaurants in places like Queens, Staten Island, the Bronx, Harlem, Brooklyn, these are places where the people that work in these restaurants live in the community. The customers feel like they can eat at those restaurants because they know who works there. And that restaurant might have helped transition that neighborhood in a way that wasn't possible before, or might have given a job to a young kid that needed to get off the streets, or needed to pay for college.
I know a lot of people look at restaurants as a luxury, but they're essential to the food chain. I'm concerned about my rice farmers that I can't order rice from. They're affected by this too. The impact is full circle: affecting the restaurants, the people producing the food, the people cooking the food, the people eating the food.
A restaurant does a lot, and in these times, the restaurant now leans on the community. And I think the community is okay with repaying the restaurant to get them through the moment because the community has, at some point, once leaned on them. We all have to help each other right now.
Sign up here for our daily NYC email and be the first to get all the food/drink/fun New York has to offer.