New York Convincing your friends to hang out in Queens is no easy feat, but NYC's most populous borough has actually seen some exciting food and drink developments in recent years -- as in top-notch breweries, cocktail bars, and brunch spots. Hooray gentrification! We've already laid out the best places to chow down in Astoria, but Long Island City's got its own tale to tell: with long wine lists and whole-rib steaks, these 13 bars and restaurants are well worth braving a ride on the 7 train.
Note: The border between Astoria and LIC is notoriously ambiguous, and while everyone's got their own opinion, we'll use 36th Ave as the northernmost dividing line for the purposes of this article.
Recommended Video
The Fasties: Kat Thompson Mukbang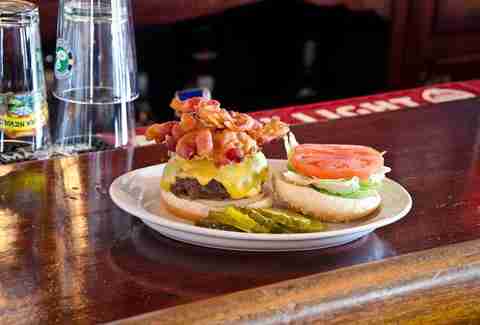 47-18 Vernon Blvd
If you're looking for a straightforward beef burger covered in melted American cheese and crispy bacon, this is your jam. If you're looking for that same burger topped with homemade chili instead, this is still your jam. If the idea of getting both McSorley's light and dark ales on tap is appealing in any way... well, you get the idea.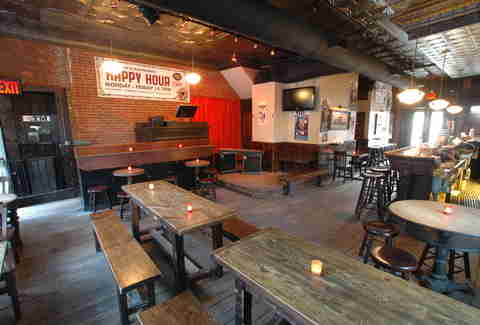 Best happy hour: LIC Bar
45-58 Vernon Blvd
This 100-year-old place is brimming with history, from the antique wooden bar to the original tin ceilings, but it's not the past that should concern you -- it's the $3 beers and well drinks, and the $5 margaritas and well drinks. Show up from 4 to 7pm on weekdays, and you're set.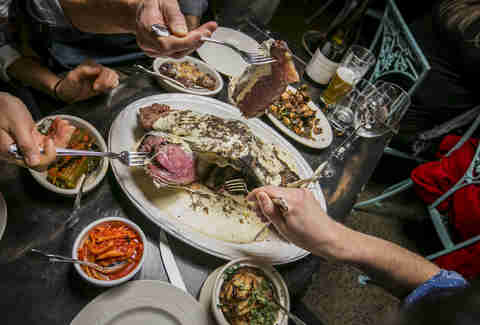 43-15 Crescent St
Suggesting the salad at a steakhouse is usually a bad joke, but the Caesar salad here comes heaped with enough Parmesan cheese to make a lasagna blush, and that's gotta be worth something. On the carnivore front, though, things get ridiculous courtesy of the bone-in burger and the gigantic, 40oz tomahawk steak Peter Wells described as "worthy of a Flintstone" -- it's served on a whole rib and covered with cheese, but at $160, it's only really an option if you share.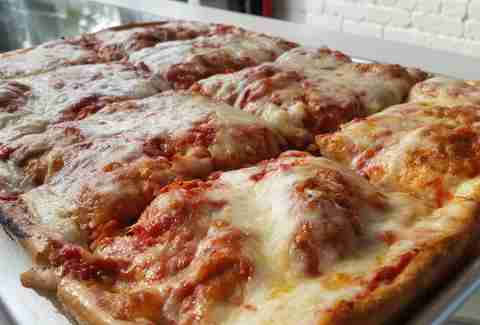 Best pizza: sLICe
48-11 Vernon Blvd
Sometimes all you really want is a classic slice of NY pizza, be it plain cheese, grandma, or margherita -- and in case the giant neon sign out front wasn't clear enough, this is the place to go in LIC. Give the short rib meatballs a shot as well. It's open 'til 3am on the weekends, too, making it the perfect accompaniment to a night of drinking at...
10-93 Jackson Ave
This place is actually a twofer, equal parts artsy coffee shop and vegan-friendly bakery. All the pastries are made fresh each day -- try the cinnamon donut holes or the chocolate chip cookies -- and there's even a record room in the back where you'll find a turntable and an expansive collection of vinyl. Because nothing complements artisanal coffee like vinyl, maaaaan.
50-04 Vernon Blvd
With wines by the glass, oysters and cheese plates, and live jazz performances every Thursday, this dimly lit and intimate bar can turn an OK date into a great one -- or a bad date into one you won't wanna immediately sneak away from. The French expat bartenders are super knowledgeable, which is helpful when you're faced with a list of 40 wines and you kinda sorta made your date think you were an amateur sommelier.
27-24 Jackson Ave
Named for the historic subsection of LIC in which it resides, this renowned cocktailery offers a list full of handcrafted mixed drinks, or opt for the bartender's choice by suggesting a base spirit and letting them work their magic. The owners operate a custom ice shop too, so depending on the cocktail, you'll also receive a specially hewn piece of ice harvested from a single 300lb block -- big cubes for rocks glasses and "Collins spears" for highball glasses.
21-50 44th Dr
Whatever you get here, be it the chicken Parm, the seafood risotto, or the Blue Point oysters, you'll receive complimentary bruschetta at the beginning of your meal and a limoncello shot at the end to cap things off. Plus, the dessert crepes are made tableside -- which, if you've never watched crepes being made, is almost as fun as eating them. Almost.
4-40 44th Dr
Yes, the grilled hot dogs and burgers are great, and the corn on the cob is indeed delicious, but the main attractions for this place -- its outdoor seating and waterside Manhattan view -- are only available from April through October. Or, they used to be: Anable Basin will be open year-round starting in 2016, meaning you'll be able to score tasty bison burgers and chorizo sausage even when it's seasonally inappropriate to do so. Welcome to the future!
21-52 44th Dr
Skip the sometimes hour-long wait at this weekend breakfast hotspot by arriving before 11am, then avail yourself of the slow-roasted duck hash bounty that awaits you. Other hot-ticket items include the bullseye eggs, the brisket sliders, and the dirty rice frittata, but you can't really go wrong with anything on the brunch menu. Bonus points if you shout "Hakuna Frittata!" when your meal arrives.
Best restaurant you can dance at: Mundo
37-06 36th St
This eclectic, bi-level spot inside the Paper Factory Hotel takes its culinary cues from Mediterranean and Latin cuisines, and while the food's obviously the main reason you're coming here, the ambience is a close second. Between the exposed-filament mood lighting, the live music and dancing, and the 30ft column made from vintage books (it's the "Paper Factory" after all), this place feels like a swanky Manhattan eatery -- until you walk outside and remember you're in LIC.
MoMA PS1, 22-25 Jackson Ave
An offshoot of the aforementioned M. Wells Steakhouse, the cafeteria at PS1 used to offer exclusively Quebecoise cuisine before adding an array of sandwiches to the menu -- the star of which is undoubtedly the spaghetti sandwich. The. Spaghetti. Sandwich. It's like someone took your favorite food, turned it into a patty, and smashed it between two pieces of garlic bread -- no, wait, it's not like that, it IS that.
LIC's got some stiff competition when it comes to breweries, so we're gonna take the easy way out and say that you should just visit all three -- they're actually close enough that a crawl isn't out of the question. Big Alice and Rockaway both have the advantage in pedigree and beer variety, but don't sleep on LIC Beer Project: the newcomer's been turning out killer suds since it opened in May of 2015.
Sign up here for our daily NYC email and be the first to get all the food/drink/fun New York has to offer.