For some (probably stupid) reason, there's never been a fried chicken restaurant in NYC that also specializes in Champagne. So let's everyone join in a collective "thank you!" to the team at Birds & Bubbles, a below-street-level crispy birds and bubbly hideaway that opens up into a massive back yard that's the perfect place for housing both.
Head down some stairs from street level, enter through the bar, and make your way to the long, narrow dining room with black and white photos of people tearing into fried chicken.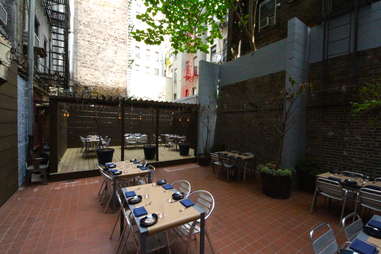 Or, keep going all the way to the hugemongnormous back garden and grab a seat on a raised deck lined with Mason jar light fixtures.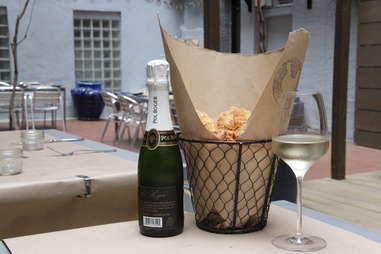 It turns out that Champagne (of which they have an extensive list that's aided by a knowledgeable staff) not only pairs exceptionally well with food in general, but particularly well with Southern food, like the buttermilk fried chicken that's cooked and served in a cast iron skillet when you order the Splitty Split -- that's half a chicken and a split of bubbly.
You can also roll with the Winner Winner Chicken Dinner, which is a whole fried chicken served in a bucket along with three sides (like this mac 'n cheese covered in a biscuit remoulade) and a bread basket that's filled with jalapeño cornbread, benne seed brioche, and buttermilk biscuits served with some amazing butter.
Although it would be a mistake to not order any fried chicken, you can at least make it a delicious one by getting entrees like shrimp and grits or this steak bavette with cornbread panzanella and cumin vinaigrette.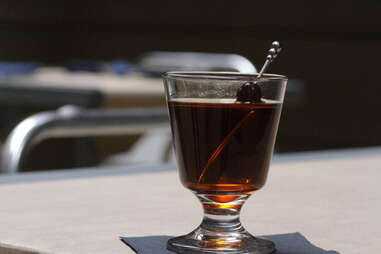 And even though you should 100% get some Champagne here, there are 100% no rules about not also getting whiskey, so have them pour you an Old Smoke (bourbon, Carpano Antica, Averna, green Chartreuse, allspice, and, uh, smoke). Champagne chaser: optional.
Sign up here for our daily NYC email and be the first to get all the food/drink/fun New York has to offer.
Andrew Zimmer is Thrillist's NYC Editor and he assumes that this restaurant existing gives him license to start eating fried chicken every New Year's. Follow him on Twitter and Instagram.