Eddie Huang & Adidas Host Free Pop-Up This Weekend to Celebrate Launch of Colab Shoe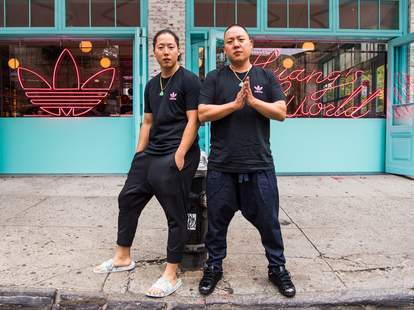 It's Eddie Huang's world, we just live (and eat) in it. At least, for the next two days. The Fresh Off the Boat author, chef, and sneaker enthusiast has partnered with Adidas to create the ultimate pair of kitchen shoes, and is hosting a free pop-up restaurant this weekend to celebrate.
The pop-up, called Eddie Huang Been Soigne, will take place at the Lower East Side location of Pizza Beach this Friday and Saturday from 6-10pm, with free dishes from Chef Creole and Javier Wong -- both of whom appeared on Huang's VICELAND show, Huang's World. In addition to Chef Creole's "The Creole Experience" (which includes shrimp, conch, sausage, and more) and Wong's fluke ceviche, you can expect plenty of Huang-emblazoned swag (retro matchbooks!), hot pink lighting, hip-hop, and an appearance from Huang and the new shoe line.
Huang is a self-proclaimed Adidas Adilette devotee, so when Adidas approached him for a collaboration, he knew he wanted to create his own version of the iconic sandals. "I wear sandals all the time -- I go around the world with my slides on, and I said, 'let's put the world at your feet,'" Huang said at a special Thursday night preview of the pop-up. Adidas was cool with the idea, but encouraged Huang to also bring his creativity to the classic Adidas Superstar, a more kitchen-appropriate shoe, and "be disruptive and look at [it] in a new way," Huang said.
adidas originals
As the founder of 14th St's ever-crowded Baohaus, Huang knows the importance of a good work shoe (visit at 2am on a Saturday and wait in line for an Uncle Jesse Bao and you'll see why comfortable footwear is essential). He wanted to take the classic street shoe, which is inherently good for chefs because of its protective shell toe, and "beef it up" for the kitchen (unclear if the pun was intended or not).
A former collaborator with Nike, Huang lists out the restaurant-friendly improvements he's made to the Superstar as if he's sharing a beloved recipe: sock liner, non-slip sole, stain-proof upper, all black suede, flame retardant...
"In the kitchen, you want something durable, something that's not going to get marked up, and we tried to make the ultimate work shoe," Huang, a constant toe-stubber, said of his new creation. "Shit happens. There's mad shit you drop on your foot and athlete's foot is a cautionary tale in the kitchen." He believes neither gross foot fungus (forget you read this next time you're at a restaurant) nor toe jamming will happen with his breathable, supportive shoe.
Another important facet is the metal shell toe (as opposed to the traditional rubber one), which pop-up collaborator Chef Creole noted was "hot water and greaser insurance." The Miami-based chef tests kitchen shoes' comfort by doing the moonwalk from the stove to the sink, and though he (sadly) didn't demonstrate the trial at Pizza Beach, he confirmed the shoe did indeed pass his test.
adidas originals
This isn't the first time a chef has collaborated with a sneaker company to create a shoe specifically designed for the kitchen. Tyler Kord of No. 7 worked with Vans on a slip-on in 2014, and LA chefs Jon Shook and Vinny Dotolo also worked with Vans on six different shoes earlier this year. But Huang's Adidas collab is made for New York City chefs in particular -- and not big-name ones.
"For me, it's not a big chef I want to see [in the shoe], I want to see cooks, New York City cooks in this shoe," Huang said. "That's always the thing that I love: Running into people, whether it's cab drivers, doormen, garbage dudes... people, working people always stop me and they're like 'Yo, I watched Huang's World and you didn't forget us and you stayed down for us.'" Huang said he "made this shoe for people who want to work in it."
Beyond the splurge-worthy shoes and free food, Huang aims to unite New Yorkers via the Adidas sponsored pop-up. "Food is a global culture, so is streetwear, and it's one of those things that really connects people," Haung said. "In America, where there's a lot of divisiveness and a lot of people trying to hang on to the differences we have, I want people to feel like you come in here and you eat Taiwanese-Chinese food, you eat Creole food, you eat Peruvian food, and we're a lot more similar than we are different."
Eddie Huang Been Soigne will be open Friday, September 30th and Saturday, September 31st from 6-10pm. To RSVP,  follow @adidasNYC on Instagram. If you want to get your hands on the shoe, the Eddie Huang x Adidas Superstar ($150) and Adilette ($50) will debut on October 1st and launch for sale on October 8th at adidas.com/originals.
Sign up here for our daily NYC email and be the first to get all the food/drink/fun New York has to offer.