Mini Melanie is the bakery behind the literal crown jewels of NYC desserts. The bakery creates jewel-toned truffles that look almost too pretty to eat (almost). Melanie invited us into her tiny kitchen at Hill & Dale to show us exactly what goes into making a rainbow truffle -- check out the video below for a sneak peek at her newest and most colorful jewel yet.
Recommended Video
These Pimple Cakes Are Meant to Be Popped
Previous Venue
Next Venue
Venue Description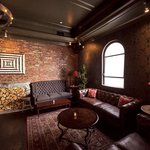 1. Hill & Dale
115 Allen St, New York, NY 10002
With a name that alludes to the process by which early vinyl records were made, this Lower East Side bar is an adage to the glory days of musical recording and pure Americana: vintage radios and phonographs stand resolute behind bottles of bespoke liquor, overlooking a geometric-tiled floor and Downtown Abbey-meets-SoHo speakeasy environs. If you're not in the mood for delightful bites like the deviled eggs topped with pork belly or traditional heavy hitters like the buttermilk fried chicken, the daily oyster happy hour is spot-on satisfying (especially when paired with The Floozy, a whimsical cocktail of vodka, muddled strawberries and lime, garnished with an actual daisy).