This is the only bar in NY that will have a 4000lb iceberg inside it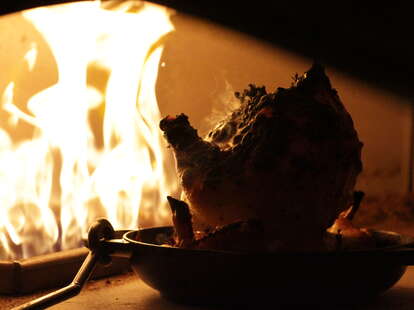 So that looks nice and warm, right? Well hold on to that image, because things are about to get a lot cooler. This is Preserve 24, an American wood-fire-fueled resto that's meant to be an "immersive sculpture project", and has some of the loftiest and most adventurous ambitions of probably any restaurant ever -- including being home to an iceberg that's stored inside the damn place
This cage bisects the two floors and, someday soon, will be their "refrigerated reliquary" filled with a 4000lb hunk of iceberg they plan to keep frozen with energy from solar panels over the course of exactly 163yrs, which they say is the amount of time that we've been calculating mankind's carbon footprint. Cool
This is an artist's depiction of how they plan on getting the ice. How they actually plan on getting it is by launching an expedition to Greenland in 2014, hacking off a huge piece of berg, and shipping it back to NYC
That painting is in this room, which during the day is the cafe and coffee bar, and at night morphs into a raw bar centered around the counter made from a salvaged mid-19th century British boat that somehow made its way to San Francisco, where it was used as an oyster ship in Tomales Bay
The upstairs has three rooms. This is the second; it's accessible in the daytime via a second Houston St entrance, and is meant to resemble an old train car, though chugging may be frowned upon
The top floor's also got a bar, which hosts shelves filled with globes, lanterns, and binoculars, plus two dioramas depicting the launch and return of their forthcoming voyage..
... and fans made from things like baker's paddles..
... and tap handles made from piano pedals. This'll make some more sense if you keep reading long enough to make it to the downstairs
Sure, there're lots of cool details, but you're here because you want them all to be a little fuzzier anyway. Here's the Gunslinger packed with moonshine, sarsaparilla syrup, anisette, and fresh lemon juice. It's "meant to taste like the Old West"
And this here is the Dead Reckoning, a faintly tiki-ish take on a margarita with mezcal, velvet falernum, and honey syrup mixed with muddled bananas and parsley
Scope these old school arctic exploration tools as you head downstairs
The stairs feature an "intentional sag", and are put together from random bits and pieces like parts taken from a Soho stoop and subway skylights
The pub is modeled a bit like bars in Cambridge, England, and hosts a big old-school icebox, a painting of an expedition vessel falling off the edge of the world (oh man, it's true!), and shelves made from three large pianos suspended in a way so as to imply a glacier disassembling, of course
The dining room is situated around an open kitchen and a giant potbelly wood-burning stove named "Pavarotti"
Pav will be belting out "food from the Northeast" like this dry-aged veal chop crusted with fennel pollen and chili flakes, then topped with house-made vinegar peppers
They've got their own way to cut macaroni in a longer, ridgier manner than usual, and here it's done Amatriciana style with guanciale, lardons, Ouray cheese (basically a NY version of Pecorino), and Jersey tomatoes
Sweet onions, muddled tomato, oregano, and garlic on top of a roasted Porgy, so you know it's the Bess-t
And here's the whole chicken straight from Pavarotti. Served for two, it's charred and stuffed with aromatic veggies and Italian salsa verde -- just tear in and eat it right off the bone.