After opening one of the most nationally acclaimed Chinese food joints on two different coasts, the Head Chef of uber-popular LES spot Mission Chinese Danny Bowien is doing the logical thing and turning his attention toward... um... tacos. Enter: Mission Cantina, a Californian-steezed, Mexi-inspired taco stand with a beach-outpost vibe and a semi-psychedelic, neon-lit alley.
Recommended Video
This Restaurant Reinvented the McGriddle
Score a booth seat past the open kitchen, and under the neon-lit, hanging papel picado banners.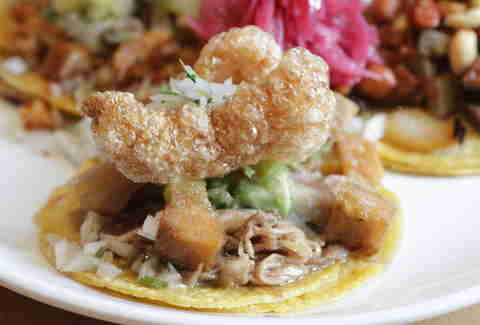 Once you've finished Googling papel picado, you're gonna want to get down with literally every different kind of taco here. Even the familiar sounding ones come tweaked and boosted up a bit, like the carnitas (here), which feature cracklings, confit pork shoulder, and crispy jowl.
The Alambra gets a jolt of smoky, cheesy goodness from the homemade Oaxaca cheese sandwiched between two tortillas that, like everything worth caring about, are then topped with brisket and bacon.

Pretend it's Saturday at the club and get weird with some tongue -- this time topped with crispy peanuts, charred onion, and tomato pickles.
And stay adventurous with the shrimp and tripe mash-up, topped with a hit of citrus from the lime.
Somewhat surprisingly, the chef's favorite thing on the menu is this non-taco, whole rotisserie chicken, which's stuffed with rice, chorizo, and pecans, and topped with brown rice vinaigrette.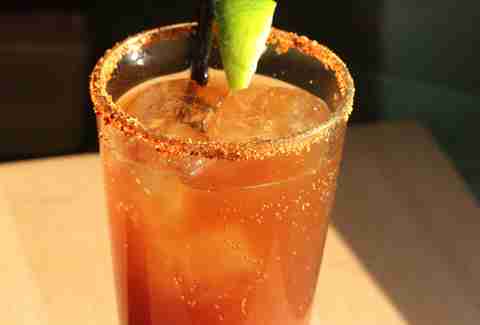 Other than maybe 10 more tacos, does anything go better with tacos than a Michelada? (No. The answer is no.)