Prohibition Bakery -- in case you aren't super deep in the downtown cupcake scene -- is a tiny LES bakeshop that fills their cupcakes with booze that will get you hammered... if you eat enough. To celebrate their first year of making people slam 32 cupcakes instead of a Bud, we decided to take a deeper look at their Pretzel & Beer cupcake and what makes it so delicious.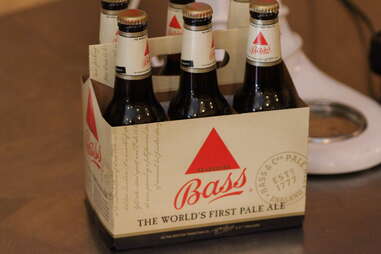 The Beer Cake
Bass has just the right flavor to mix into the batter: it's sweet enough, yet light and hoppy as well. Feel free to start cooking everything with it.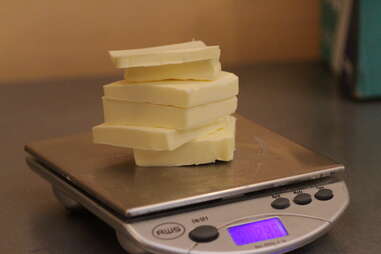 We recommend not eating Beer & Pretzel boozy cupcakes if you're a health nut.
This helps make the cake soft, yet moist. Who knew?!?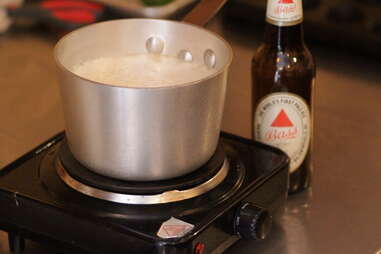 When it's all mixed together and brought to a simmer, this is basically the best-smelling thing in the world.
Like the Cinemax scene it resembles, this should be getting you hot.
The Frosting
It's basically Nutella, only made to be lighter and sweeter.
The White Truffle Dusting
Each one receives its own sprinkle of the stuff, and the flavor it adds is quite possibly the most crucial part. It adds just enough savory oomph to make this stand out from other beer pretzel cupcakes (if they exist), and acts as a bridge between the frosting and pretzel flavors.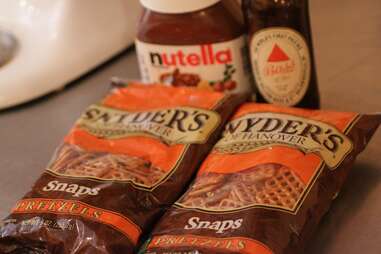 The Pretzel
They tested countless versions, including a broken stick, but nothing worked quite as well as Snyder's Snaps. "Good luck finding these anywhere in the city", because they bought them all up...
... and they also look great.
And there you have it -- it packs a lot of flavor for a tiny boozy cupcake.