A Fatty Crew dude wants to feed you fried chicken (and drinks in coconuts!)
If there's one thing you love, it's fried chicken. And if there are eight things you love, they're... eight kinds of fried chicken. Enter: Seoul Chicken, a new fried chicken bar (with eight kinds of fried chicken!!!) in the LES from Chaz Brown of Top Chef, Around the World in 80 Plates, and Fatty Crab fame. Weekend plans: made.
You can either stake out your spot at the bar or under the rotating art exhibit on the wall (so... bar). If you're there during a big game (tonight's Packers-Seahawks game?), they'll roll down the projection screen at the far end.
So there's Southern-fried boneless chicken and whole Korean fried birds, but the most variety is going down in wings-ville, where they've got seven different types of Korean fried wings in servings of six, 10, or 18... including these dry-spiced flyers (brined in palm sugar & turmeric and topped with hot peppers) for people who just aren't into getting saucy.
The closest you're going to get to the standard Buffalo wing here is the gochujang Buffalo option. It isn't the hottest (that's their habanero kimchi wings), but it's got enough buttery kick to satisfy, and the fermented spice base gives off a slight blue cheese-esque funk.
The furthest away from the standard Buffalo wing that you're going to get is likely the sweet-ish palm sugar & calamansi wings garnished with some lime zest, which provides a nice punch of acid.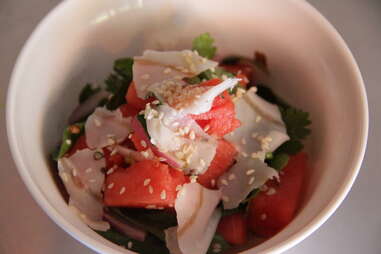 There's non-fried chicken stuff, too (don't do it!!!), including this watermelon straight-covered in lard (okay... maybe do it).
And because we know you were hoping for cocktails made in coconuts, they've got those too, along with many other originals that aren't. Decisions, decisions...
Sign up here for our daily NYC email and be the first to get all the food/drink/fun New York has to offer.
Andrew Zimmer is Thrillist's NYC Editor, and he can't think of anything he'd rather do this weekend than eat chicken wings and sip booze from a tropical fruit. Follow him on Twitter and Instagram.