Strawberry marshmallow grilled cheese has arrived. It's about time.
The next evolution in grilled cheese is here, and it involves homemade Fluff, strawberries, and a touch of cream cheese. The team at Little Muenster just unveiled their new menu, and while it's a small step into a more cheese-centric sandwich vibe rather than straight up grilled cheeses, it's a giant leap forward for stuffing awesome things into your face.
While homemade Cheez Whiz is probably all you need to know to start salivating, we'll tell you other things, like that said Whiz goes atop a foie gras, lamb, and pork sausage.
If you don't love the venerable egg-in-a-hole, you should probably see your doctor. Or see if this version with a duck egg, profoundly funky Vacherin cheese, and shallot jam can't get you back on a reasonable track.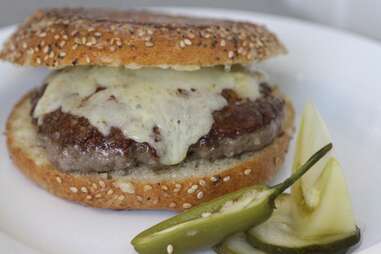 Their patty for the patty melt comes courtesy of Pat LaFrieda and gets topped with a 2yr-aged Grafton cheddar, sauteed mushrooms, and onions, before being squished between country sourdough bread that looks very much like an everything bagel.
Fine, there's no cheese in this. But that's ok, because ice cream sandwiches made with graham cracker brownies are considered a suitable replacement.