Meatballs, Rice Krispies Treats, grilled cheese: your childhood favorites have all been reworked with super-high quality ingredients by restaurants you can actually bring girls to on dates, and have them respect you as "adorably kooky" at worst, and a down-home eating visionary at best. And now, maybe the most unexpected snack of all has its own dedicated sanctuary. Welcome to Taquitoria, home of the best taquitos you've ever had.
Despite its casual graffiti-alley looks and humble specialty, this place has legit pedigree -- the owners/chefs worked as the GM, sommelier, chef de cuisine, and hospitality manager of Restaurant Marc Forgione. And perhaps more relevant to you, their dedication to top-notch ingredients and customer satisfaction have led them to dub themselves purveyors of "hospitality-driven street food".
In their quest for the perfect taquito, they sampled countless different varieties -- including some excellent examples out in San Diego -- and decided that the most important element is the crunch. They've achieved their snap (which purportedly lasts up to two hours after cooking) via a 6in yellow corn tortilla that's "cooked like French fries", which means fried at a low temp, then fried again at a higher one.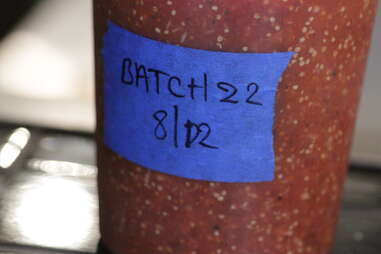 The fillings are approximately a billion levels above your garden-variety rolled snack. The four choices include Bell & Evans chicken that's brined for 2hrs in secret herbs and spices, then braised in Forgione's Batch 22 "Bloody mix" for a nice hint of horseradish and mustard seed.
The beef is an eye-round and shortrib mix from Creekstone Farms, and its 'quito gets topped with shredded lettuce, Cotija, and guac "sauce", which is an awesomely tasty mix of avocado, cilantro, and sour cream. And you MUST dip it into Pancho's red sauce, especially because, when the Cotija drops in and mixes, it makes the last dips cheesy and fantastic, like so many Hugh Grant movies.
They also suggest pouring some on top along with a little Cholula, which they feel compliments the flavors best, whether it's the previous two fillings, a bean-only offering, or this Berkshire pork joint that's brined in those secret spices then confited, pulled, and chopped.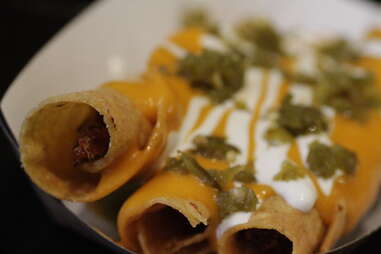 And if you're less into shredded lettuce than you are gooey nacho cheese, hook yourself up with their other style: the "Cheesy". Basically, it takes the same fillings, and hits them with nacho cheese, sour cream, and pickled jalapeno relish. Apparently, the bean nacho cheese is the house favorite and tastes like the best plate of nachos you've ever had, but bite-sized. Your move, mom/freezer.