Four Stages, One Drag Restaurant: The Evolution of Lucky Cheng's in NYC
Oren Aks/Thrillist (Images Courtesy of Lucky Cheng's, Sarah Ackerman, nienora / Shutterstock.com)
"Do you want another Pink Pussy?" Tobell Von Cartier asks as she sashays toward our table at Stage 48, the newest pop-up home to New York's original drag queen restaurant, Lucky Cheng's. Foregoing the sharable orgy bowl, I opt for another hot pink vodka drink, as a balloon maker who just completed an inflatable penis sculpture for a guest's mother-in-law at the table next door approaches. He's been doing this for over a decade, but says today Lucky Cheng's is "not the same" as it once as.
In 1993, restaurateur Hayne Suthon was out of a job. After closing her latest project, Cave Canem, a dinner club built in a former gay bathhouse at 25 First Ave, Suthon needed a new plan. Partnering with producer Robert Jason, the two envisioned opening a Chinese restaurant in the East Village. At the time, the neighborhood had a dire lack of Asian cuisine, and the duo wanted to make the new restaurant "more interesting" than your typical dinner spot, says Jason. They hired an exclusively all-Asian, gender-ambiguous waitstaff to challenge the norms of what a restaurant could be. "It was revolutionary and very taboo," he says. Also, "it was a raging success."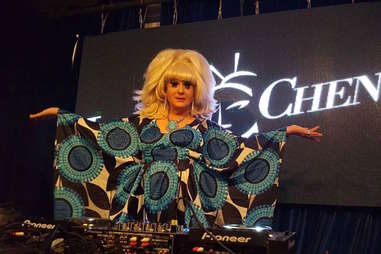 The former bathhouse didn't have a proper stage, and the original appeal of Lucky Cheng's -- named after a busboy on a whim -- was that it was a restaurant staffed by female impersonators (including men in drag and trans women) who would perform around the tables of diners. Tora, who has worked at Lucky Cheng's since the doors opened in the fall of 1993, notes that since many Asian parents expect their sons to get married and embody certain gendered stereotypes, opening this type of restaurant was "a big to-do." Jason adds that it gave people who had been "rejected from society" (and oftentimes their families) a place to work -- and eventually a second home.
"It was and is a place where anything can happen."
The original clientele was mostly made up of bohemians and "artsy East Village people," according to Tora, many of them hair stylists and makeup artists who catered to celebrities, which became the next wave of Lucky Cheng's customers. By 1995, the restaurant was an established hotspot, often packed exclusively with famous faces and their friends. "One night it was filled with celebrities and we had one table of eight that was available," Tora recalls. "Bernadette Peters, Amy Irving, Sam Harris, and their friends came in and just as we sat them, Barbra Streisand's limousine rolled up with Robert De Niro, but we had just given away the last table. She waved her manicured fingers and told her driver to move on. Everyone was gasping!" Ever since the Barbra incident, Lucky Cheng's has required confirmation for large group reservations.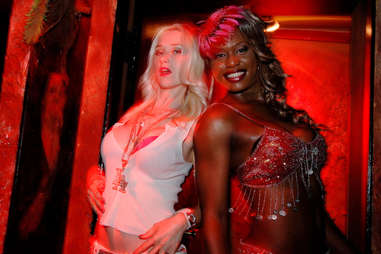 Ushered into the mainstream nightlife scene by a steady flux of Page Six mentions and a memorable scene in the very first episode of Sex and the City, Lucky Cheng's also became one of the city's most popular bachelorette destinations. This was long before RuPaul's Drag Race (though many of the contestants have worked at Lucky Cheng's), and before Laverne Cox -- also a former Lucky Cheng's employee until her big break on Orange Is the New Black in 2014 -- and Caitlyn Jenner appeared on TV and in magazines. Back then, drag and trans issues were nearly invisible in the media and to many New Yorkers not involved in the city's queer scene.
"Once upon a time, it was people coming to see the freaks that no one saw," says Paulina, the Princess of Power, Lucky Cheng's MC for the past 12 years, and "a comedic genius" according to Jason. "Now you can't turn on the TV and not see a drag queen or a gay guy -- we're a common attraction!"
Though Lucky Cheng's has never been mainstream per se, Paulina says that throughout the years, the establishment has attracted a mainly heterosexual crowd, attributing "rubberneckers" to a large part of the audience. "We're just an accident people can't help but look at," she laughs.
"LGBT people tend to be less interested in these things, as they're bombarded with it on a social level," Paulina adds. "Gay guys usually only come with straight girls. Or to make fun of drag queens." Paulina says she uses her role at Lucky Cheng's to educate those who may have never encountered a man in women's clothes before. She also notes that the entertainment itself may have an intrinsic level of education to it.
"I made it to Broadway in my mind."
As the years rolled on, performances started becoming a larger part of the Lucky Cheng's repertoire. While early customers came in "just for dinner and to see the girls," as Tora explains, "drag boxes," or Lucky Cheng's version of a lap dance, became popular, and more performances and table dancing started adding a fun energy to the restaurant. An old Jacuzzi from the venue's bathhouse days became a more formal stage.
"We let the girls be as creative as possible," says Jason. "It was and is a place where anything can happen."
***
After 19 years in the East Village, Lucky Cheng's had grown out of its beloved home, and Suthon relocated the business to Times Square, just across the street from Jersey Boys, where tourists and visitors would be more likely to drop in on a whim. Sister Mary Helen, a queen who joined the Lucky Cheng's crew just before the move, says that the expansion was "a brilliant move, [Suthon] was a brilliant business woman." Suthon's family owned the East Village building, and leaving to sign onto a new lease in 2012 was a bold choice, but necessary in order to grow the business.
The new, much larger Lucky Cheng's opened at 240 W. 52nd St., around the same time that Suthon was unfortunately diagnosed with stage 4 breast cancer. The new flashy location also inspired a "stronger theatrical presence," though the timing for Lucky Cheng's development wasn't ideal.
"The move was ambitious considering her state of health," says Jason, who has a daughter, Josephine, with Suthon.
In Times Square, Lucky Cheng's got a new life. People would walk by and spontaneously attend shows, many of them experiencing and learning about drag for the first time. The larger space "broadened the audience and gave [us] the opportunity to experiment more and keep ideas fresh," Jason says.
"I made it to Broadway in my mind," Paulina says. "When the Jersey Boys were home with their feet on the couch, Mama was working it eight shows a weekend." She says the grittiness of the East Village and its sought-after nightlife experience "set the tone for the bawdiness that [she] continued."
Less than two years after moving to Times Square, Suthon tragically passed away and soon after that, Jason notes, "we ultimately had to leave." The major expansion and carrying on Suthon's creative vision while grieving the loss was too much to handle. Sister Mary believes that the restaurant would still be in the space if Suthon were still alive today.
Two years later, in 2014, Lucky Cheng's was reborn back Downtown with the help of Josephine, who performs under the name DJ JoJo. This time it was a pop-up inside the Lower East Side nightclub The DL.
The new location was just minutes from where Lucky Cheng's started, but by then the neighborhood had completely changed. "The club was not amenable to the creativity," Jason says. "The community board was a bitch, they just weren't open to a lot of the ideas they wanted to pursue." He also attributes homophobia and ignorance to the struggles the pop-up faced.
The search for a new venue continued, and Jason finally connected with Stage 48 in Hell's Kitchen, a venue that's hosted finale crownings of RuPaul's Drag Race and the Night of 1000 Queens during NYC Pride. It was seemingly a spot made for Lucky Cheng's -- not only was it already suited for drag queen performances, it also had a kitchen that catered the building's rooftop lounge, Cantina Rooftop.
"We're like Madonna: with every album, she reinvents herself to stay with the market."
In May 2016, Lucky Cheng's was officially reborn for the fourth time on the third floor of Stage 48, with many of the same staffers who had worked the tables back in the '90s still working at the pop-up on weekends. Many have expressed excitement that the venue is slowly starting to attract celebrities again. One longtime employee says he hopes the homophobic behavior he witnessed in the last location doesn't carry on into Hell's Kitchen.
Still, when I attended a Friday night dinner show this summer, a woman's mouth dropped open when Paulina joked that her date was gay. One would assume that the couple, on a double date with another straight couple, knew what they were getting into when attending a drag show, but the four grabbed a check for their Coronas and fled mid-show.
Most staffers, however, didn't cite any concern for the growing commercialism of the venue, often referencing RuPaul for bringing drag into the mainstream. "It's fun to look at the '90s, but that's not a thing that's happening anymore," says Sister Mary Helen. "We're like Madonna: with every album, she reinvents herself to stay with the market."
Still, there are some parts of the '90s that thankfully remain alive at Lucky Cheng's. These days, performances still invoke the cherished decade with hip-hip numbers by Von Cartier, and a squirt gun-inclusive performance to the soundtrack of Disney's Pocahontas by another long-time queen.
***
"My mom passing was the biggest change [at Lucky Cheng's]," Josephine says. "Things kind of fell apart, she was holding everything together and things just went up in the air. We're picking up the pieces, moving forward with them and finding out who we are again." Currently, Lucky Cheng's only pops up at Stage 48 for three weekend dinner shows -- at 7pm on Fridays and 6pm and 8pm on Saturdays -- though Josephine sees it eventually finding a new permanent home, which she hopes can expand to incorporate a center for youth and a place where various communities can hang out more informally.
"It's been difficult because this wasn't my vision or my dad's, it was my mom's," she says. "But it has been a home for people for 20-plus years and it's been a home for me too. Abandoning it didn't make sense to me whatsoever, and passing it on didn't make sense either, at least not yet." For now, DJ JoJo spins the music at all three weekend pop-up shows and makes candies to pass out at the end. She hopes to also make T-shirts for Lucky Cheng's and take the show in a "more theatrical direction." The restaurant is also bringing back beloved weekly events, including a Thursday karaoke night and a special all-male revue.
Through all the different changes, what's remained constant over the years is that Lucky Cheng's is a haven for all different types of people. "Some of the old club kids have followed us through every one of these iterations," says Sister Mary Helen. She also notes that about half the room is usually first-timers, while the other half consists of "drag daughters" of original performers (a newer drag queen who learns from a more experienced "drag mother"), kids of visitors who experienced Lucky Cheng's 20-plus years ago, siblings and family members of former partiers, and even a stream of new celebrities who have started returning to the venue. For now, the handful of attendees -- ranging from a steady flow of bachelorette parties to, on a particular Friday evening, an elderly couple canoodling on a back bench "waiting for death," as Paulina jokes -- seem enthused by the latest incarnation.
"Drag queens are making an ugly world prettier," Paulina calls out multiple times throughout the evening. She is, of course, totally correct.
Sign up here for our daily NYC email and be the first to get all the food/drink/fun New York has to offer.
Melissa Kravitz is a writer based in NYC. She is still undecided on her drag name.