David Chang's New Food Delivery Service Just Launched
Maple, or the highly-anticipated food delivery service that's backed by Momofuku's David Chang, launched in Lower Manhattan on Tuesday, promising three daily-rotating lunches and dinners by professional chefs delivered in 30 minutes or less. The service comes amid an increasingly crowded -- like everything else in New York -- delivery space with the recent launches of two other on-demand food services, UberEATS and Arcade.
What's likely the main appeal with Maple is on-demand access to its lineup of some badass chefs. The food offerings are led by Maple's Executive Chef Soa Davies, previously of Le Bernardin, who collaborates closely with Chang, Maple's chief culinary officer, and Maple's Culinary Board of Directors, which includes Mark Ladner, Dan Kluger, and Brooks Headley. The result, they say, is "restaurant-quality" meals with fresh and locally-sourced ingredients that is "optimized" for delivery -- to your couch.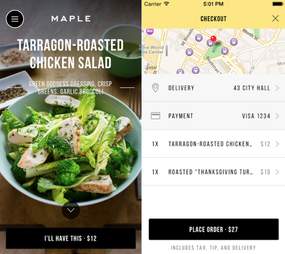 Courtesy of Maple
Some of the first menu items include lunch options like a spicy shrimp stew, a roasted beet and avocado salad, and flank steak tacos, while dinner selections include, a rosemary lemon chicken, spaghetti and meatballs, and eggplant with sweet potato curry.
At launch, Maple's coverage is limited to the Financial District, anywhere south of Chambers Street, but Maple said it expects to expand across Manhattan and into other boroughs to meet demand in the future. Lunch items are priced at $12 and dinner options are $15 -- all with tax, tip, and delivery fee included. Meals can be ordered on the service's website, or from the Maple app.
Tony Merevick is Cities News Editor at Thrillist and needs a guide that breaks down all of the food delivery services and what they do. Send news tips to tony@thrillist.com and follow him on Twitter @tonymerevick.