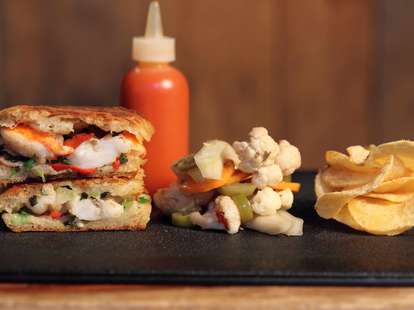 Courtesy of Lobster Press
Going to Penn Station is generally worse than coming home from a root canal and walking in on your parents having sex while a TV in the background announces Donald Trump is president, but Mario Batali and New York's resident Meat King Pat LaFrieda are about to change that.
On January 7th, Batali and LaFrieda will open an upscale food hall called The Pennsy at 2 Penn Plaza, along with Chef Marc Forgione, popular vegan food truck The Cinnamon Snail, caterer Mary Giuliani, and Chef Franklin Becker of The Little Beet.

The 8,000sqft space will feature LaFrieda's first brick and mortar location, which will sell steak sandwiches and meatball subs, and for the first time in a storefront, his famed pre-packaged meats. It'll also have Giuliani and Batali's Mario by Mary, a fast-casual Italian sandwich and soup shop; Lobster Press from Marc Forgione (on-the-go lobster paninis, salads, and soups!); and heathy options from The Little Beet and The Cinnamon Snail (the latter's first brick and mortar location). The space will also include a bar, a dining lounge, an outdoor patio, and an event space.
It certainly beats Auntie Anne's and Krispy Kreme! (This is totally debatable. Both are excellent dining options).
Sign up here for our daily NYC email and be the first to get all the food/drink/fun New York has to offer.
Lucy Meilus is Thrillist's New York Editor and very much enjoys pretzels with cheese sauce, but also a lobster panini will do. Follow her on Twitter and Instagram.